RCP - CSC campaign update:
Mumia signs, letter delivered
14 December 2020
· On Monday 7 December a socially distanced delegation presented an open letter to the Royal College of Psychiatrists (RCP) opposing their endorsement of segregations units (Close Supervision Centres). It contained some 60 organizational signatures and more than 200 individuals' signatures which you can see here. We have also sent copies of the letter to the Minister of State for Justice, Robert Buckland QC MP, and the Shadow Minister, David Lammy, Labour MP. There was some news coverage here.
·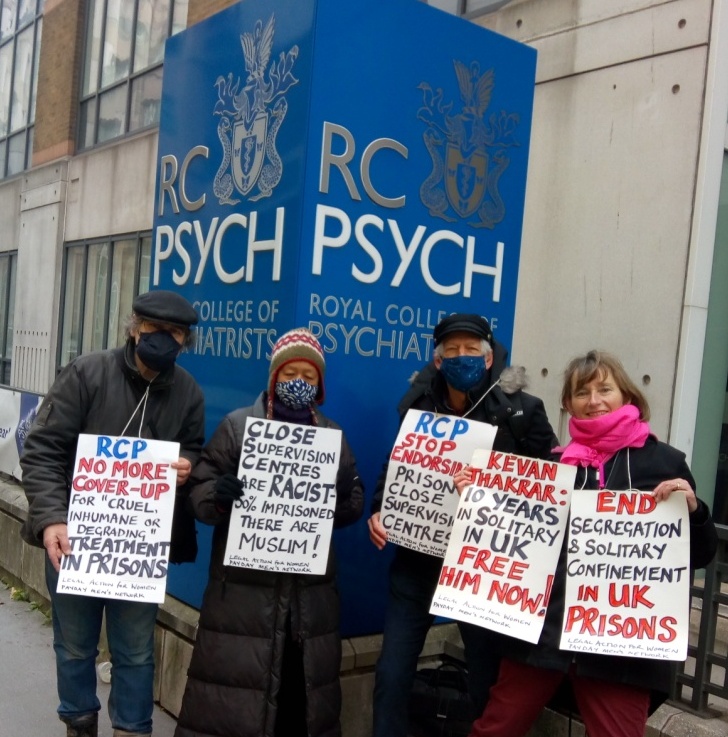 We are pleased to add Mumia Abu-Jamal to our list of signatories just before handing in the letter. Mumia, a distinguished journalist and himself a victim of miscarriage of justice and solitary confinement while on death row for many years, remains in prison at this time as he awaits his appeal against a trial riddled with racism and blatant judicial misconduct. In signing the letter, Mumia said,
I was flabbergasted to read that Britain would reinstate/extend solitary confinement in its prisons--_and especially do so under the aegis of the Royal College of Psychiatrists (RCP) there. I could not believe what I was reading! I wondered, do they not know that solitary confinement extending over 2 weeks (!) is a violation of international law? Several years ago, Mr. Juan Mendez, Special Rapporteur on Torture for the United Nations made just such a declaration in his report on solitary confinement. Indeed, his report was found definitive in several federal court cases in the U.S.
Please feel free to add my name to this noble effort, and let us abolish this atrocity from all prison systems. alla best, maj
· Shortly after receiving the letter, the RCP called claiming to want to open dialogue on the issue. However, they seemed primarily concerned about the fact that the open letter had received press coverage. We will be following up this call with a series of questions to get more information about how any CSCs were granted an "enabling environment" award. We have also made it clear that a delegation of campaigners would be willing to meet with Dr. Adrian James, RCP president.
· We are planning a webinar on Wednesday 27 January 2021 on the impact of prison segregation both on individuals and generally and the resistance to it, as a way of broadening support for the campaign for the RCP to withdraw its endorsement of CSCs. If you would like to volunteer to help organize this event, please get in touch.
Please stay tuned for more developments.
Yours in solidarity,
Niki Adams for Legal Action for Women
Sam Weinstein for Payday men's network
PS If you have not yet signed, you can still do so here. Additional signatories will be announced in the New Year.
More on this campaign here