Transnational day of action
Protest at Eurostar terminal to end detention & destitution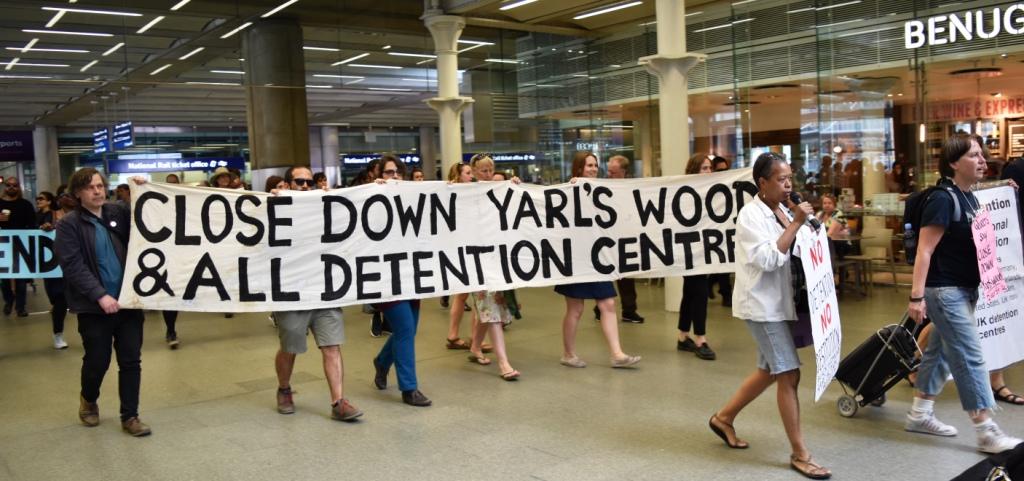 On Saturday 7 May, as hundreds of detainees at Harmondsworth Immigration Removal Centre near Heathrow went on hunger strike, protesters gathered outside. At the same time a speak out and march was held at St. Pancras International Eurostar terminal the entry point into the UK for people from Calais who have made arduous journeys through Europe fleeing war and devastation in their home countries. Both events were part of a transnational day of action against detention which saw simultaneous protests at eight other detention centres around the UK (a first!) and actions in 13 other countries. Protestors demanded the immediate release of those held against their will without a time limit, access to legal support, translation and healthcare.
The London protest was organised by the All African Women's Group, Black Women's Rape Action Project and other groups based at the Crossroads Women's Centre in Kentish Town. Chanting "Refugees are welcome here" and "End detention, End destitution", the group of 50 protestors heard from Nadia, who spent three months in Yarl's Wood. She thanked people for their support.
"We are locked up and cut off from the outside world. It is almost impossible to get help with our legal case because there are no lawyers. I tried to help other women who didn't speak English, some of them like me had suffered terrible violence. I saw mothers who hadn't seen their children for months who were distraught. But when we hear of people protesting outside it lifts our hearts and helps us carry on."
Other women spoke about sexual and other abuses in detention, how guards would exchange information about which rooms in the centre were not covered by CCTV so they knew where they could abuse women without fear of being detected. This abuse which spanned over 10 years was documented in a report by Camden based group Women Against Rape: Rape and abuse at Yarl's Wood IRC. Sian Evans from WAR told onlookers that 70% of women in detention are rape survivors and that many have gone on hunger strike, taken legal action and gone to the media to make public what they had suffered. There have been 2,230 attempted suicides in UK detention centres since 2007.
Protestors also decried the destitution of asylum seekers and undocumented migrants forced to live out of food banks, from prostitution or begging. Denied the right to work and to full benefits, some women were living on less than £5 a day. One woman spoke about the daily humiliations and exploitation that she suffered as a result, how she moves from house to house, doing childcare for friends or relying on strangers for food and a roof over her head. Speakers called on MPs to follow Jeremy Corbyn's opposition to the Immigration Bill which would force people to appeal from outside the UK and fuel racism by giving landlords the power to check the immigration status of tenants.
Maria from the All African Women's Group spoke about how measures against asylum seekers were being rolled out to others – benefit sanctions, for example, have left thousands of people with no income at all and forced to use food banks to survive. 
The protest later joined other demonstrators at Euston, en route to a night protest at Yarl's Wood Removal Centre. All agreed to continue their opposition to detention centres until they are shut down. 
A coalition of groups from the UK and around the world joined today (Saturday 7 May) a mass simultaneous protest in 15 detention centres, calling to end immigration detention centres. An international coalition joined forces with groups from all around the UK as well as groups from the US, Spain, Greece, The Netherlands, Germany, Sweden, Iceland, N. Ireland, Belgium, France and Italy. In the UK, thousands took part in the protest in solidarity with the 30,000 adults and children in detention. Protesters held demonstrations at St Pancras train station, held noise demonstration in various detention centres, flew kites so detainees can see them beyond the high walls, danced, sang songs and called for the immediate release of those held against their will without judicial oversight, a time limit, or adequate access to legal support, translation, and healthcare.
In Harmondsworth detention centre, 190 people announced a hunger strike as of today and refused to eat lunch, and 50 people have occupied the yard in protest. In Morton Hall, demonstrators came to support Fredrick Igbinedion, who has been on hunger strike for 13 days now. Igbinedion has been living in the UK since 2004 and has a 5 year old son here. According to reports from Morton Hall, he has already collapsed several times since starting his hunger strike.
A mother of a past detainee in Morton Hall spoke at the demonstration and said: "my son was detained four times. He was abused quite a lot. We are here today because we think that the way our asylum seekers are treated is inhumane, is wrong and is degrading". People inside various detention centres reported today that this show of solidarity meant a lot to them, and in many demonstrations detainees were answering the protest with their own chanting in call for freedom.
Away from the public eye: self-harm, abuse and trauma
Every year, over 30,000 people - including children - are detained in high-security prisons without adequate access to legal advice, and with poor to non-existent health care provision. Detention centres rarely garner media attention: journalists are not permitted to visit people in detention, and people detained have limited internet access, and no access to cameras, making primary source materials nearly impossible to obtain. However, research reveals the tough conditions:
2,230 attempted suicides in UK detention centres since 2007

26 deaths across the UK detention since 1989

Physical and sexual abuse by staff

Bullying of LGBT detainees

Increase risk for PTSD and mental health disability, particularly for people who suffered persecution in the past.

Pregnant women, children, and survivors of torture are detained against the Home Office guidelines
In the UK, a growing number of detention centres are run by private companies such as G4S, Serco, and GEO, who profit from the imprisonment of people considered to be "illegal" by governments. Some detainees perform key maintenance jobs in the detention centres for merely for £1 per hour, making the running of the places more profitable for companies. Today a large coalition of organisations demands to stop this exploitative practice.
May 7th is part of a wider transnational campaign to shut down detention centres and end the system of immigration detention that criminalises and imprisons people simply because they have chosen or been forced to migrate. Actions also take place in solidarity with wider struggles against borders and migration controls and with people who are living in detention without walls, from Calais to Idomeni.
This day of action take place directly in organisation and solidarity with the very people who are currently detained, or who have lived experiences of detention and the actions they take daily to protest their imprisonment and deportation, such as yard occupations, hunger strikes, riots, and resistance to forced removals. We want to let people held inside detention centres know that their struggles are not unheard, that people on the outside are listening and want to come together in fighting against detention and deportation.
Demonstrations were held at:
● March through central London (UK)
● Dungavel detention centre (Scotland, UK)
● Morton Hall detention centre (Lincoln, UK)
● Yarl's Wood detention centre (Bedfordshire, UK)
● Cedars detention centre (West Sussex, UK)
● Campsfield detention centre (Oxfordshire, UK)
● Brook House detention centre (Gatwick, UK)
● Tinsley House detention centre (Gatwick, UK)
● Harmondsworth detention centre (Middlesex, UK)
● Colnbrook detention centre (Middlesex, UK)
● The Verne detention centre (Dorset, UK)
● Larne House (Northern Ireland, UK)
● Detention centre near Schiphol Airport (The Netherlands)
● Reykjavik (Iceland)
● 127 bis detention centre (Steenokkerzeel, Belgium)
● Coquelles detention centre (near Calais, France)
● Märsta detention centre (Sweden)
● Larne House (Belfast, N. Ireland)
● Brennero (Italy)
● Parenesti (Greece)
● Exhibition at ex-detention centre (Frankfurt, Germany)
● Tacoma and Lynden detention centres (US)
This day of protest has been called for and supported by groups across borders: Movement for Justice, Leeds No Borders, We Will Rise, The Unity Centre, No Borders Iceland, SOAS Detainee Support, Black Women's Rape Action Project, Brighton Migrant Solidarity, Campaign to Close Campsfield, Manchester Migrant Solidarity, Anarchist Group of Amsterdam, No Borders Sussex, Migrant Solidarity Group of Hungary, Getting The Voice Out, Faites Votre Jeu!, No Borders Frankfurt, No One Is Illegal Stockholm, Borderline-Europe, Calais Migrant Solidarity, Anti Raids Network, No Borders Women and Non-binary folk, Shake! – Young Voices in Arts, Media, Race & Power, Detained Voices, Close the Verne, Shut Down Morton Hall, South Yorkshire Migration and Asylum Action Group, Barbed Wire Britain, Migrant Rights Network, Right to Remain, Lesbians and Gays Support the Migrants, No Deportations-Residence Papers for All, Welcome to Hungary, SOS Racismo Madrid, Aktion Mot Deportation, All African Women's Group, Payday, Women Against Rape, Women of Colour in Global Women's Strike Fight Racism Fight Imperialism Edinburgh Migrants Solidarity Network Abbattere Le Frontiere
For stories, experiences, and demands by people held in UK detention centres: http://detainedvoices.com
information contact shutdowndetentioncentres@riseup.net
or call 07440435814
Yarl's Wood protest (UK)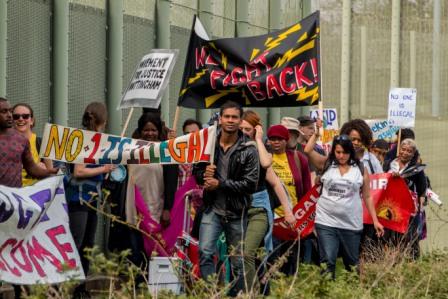 Morton Hall (UK) press coverage
Belfast (Ireland)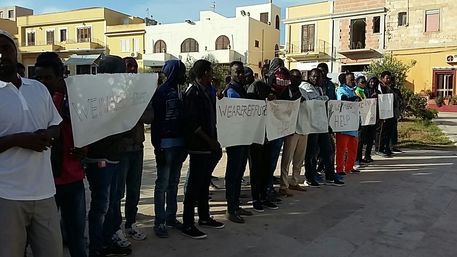 Sicily (Italy)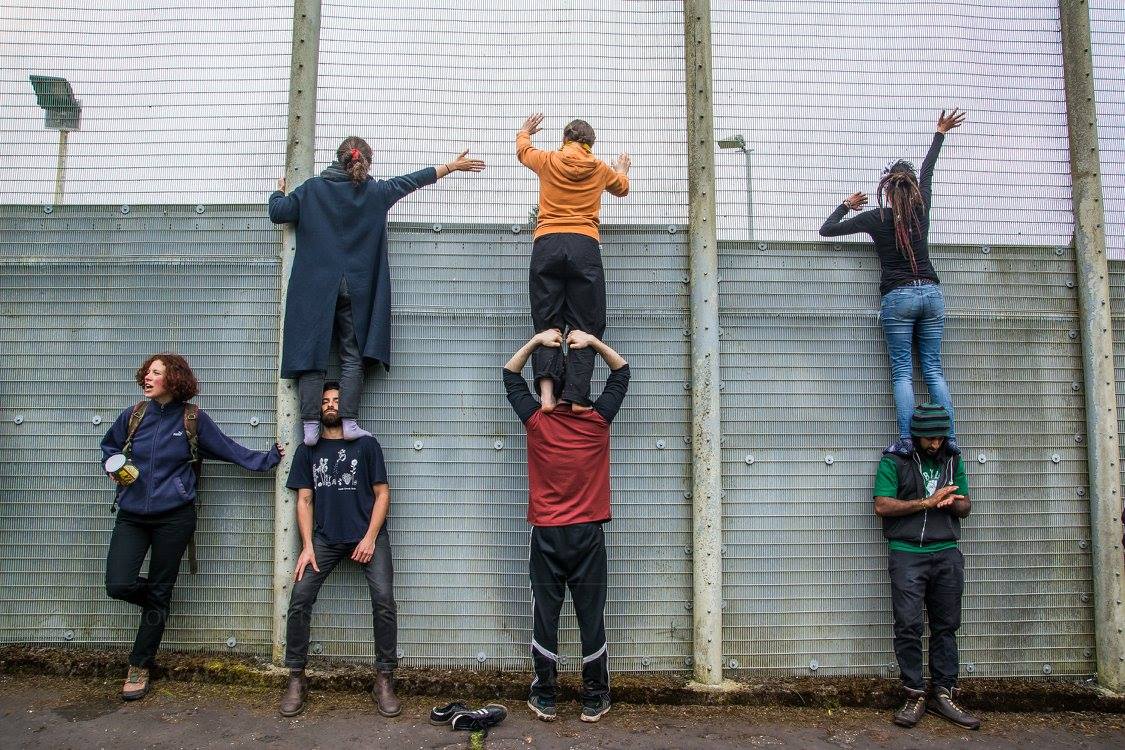 Dungavel (Scotland)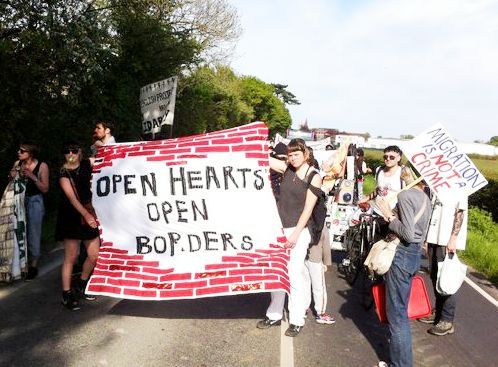 Tinsley House, near Gatwick airport (UK)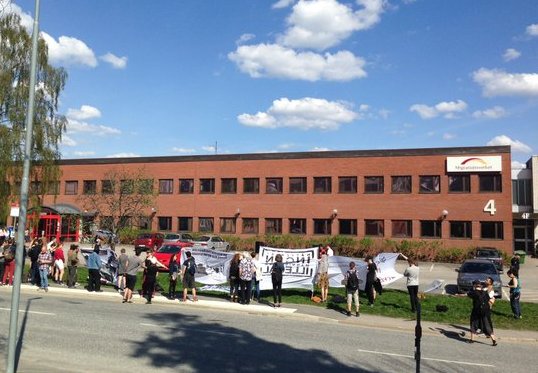 Marsta detention centre (Sweden)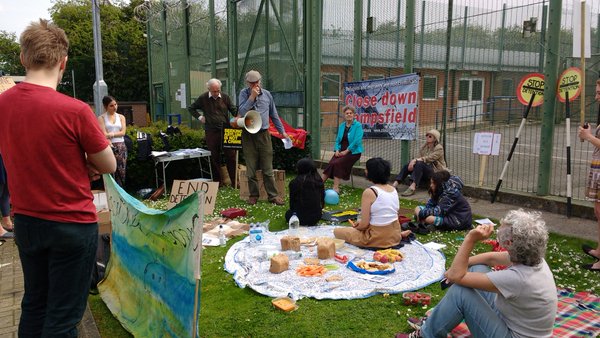 Campsfield detention centre (UK)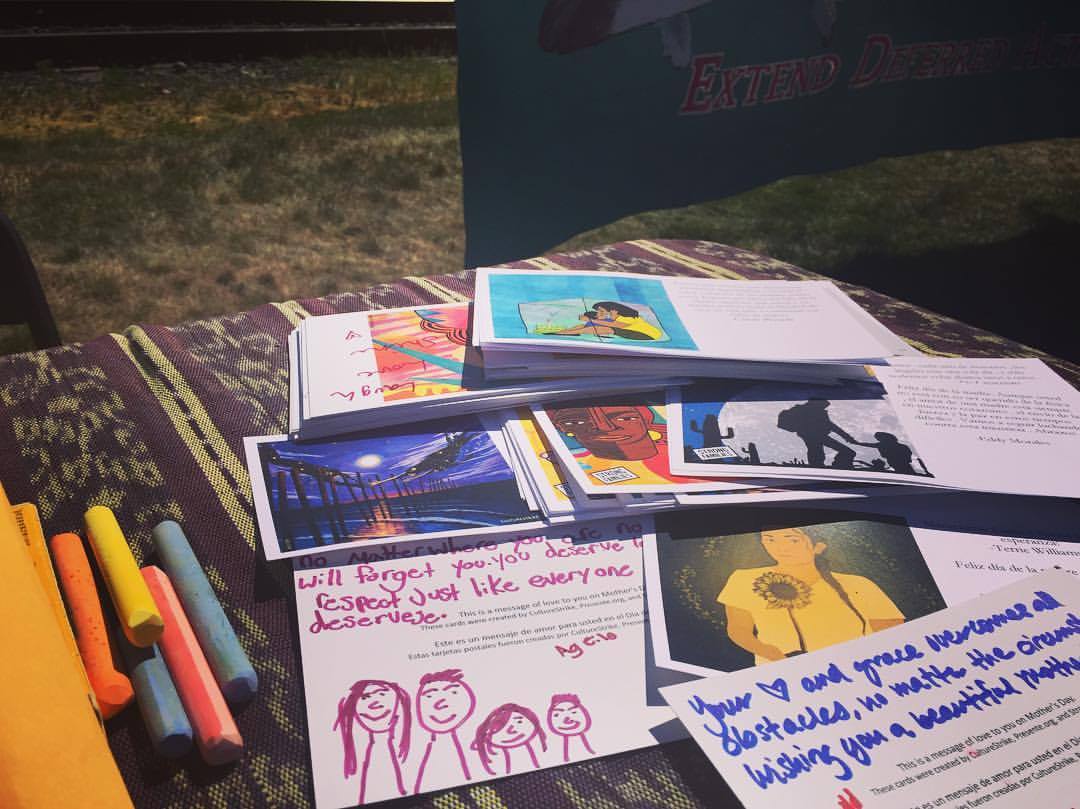 Tacoma detention centre (US) - Cards sent to detainees mothers on Mothers Day
Colnbrook detention centre (UK)