Family of Spc. Vanessa Guillen wants Army policy changes

By Thaddeus Imerman | Killeen Daily Herald July 5, 2020

The national attention surrounding a Fort Hood missing soldier case may change the way sexual harassment cases in the Army are handled.

That is the hope of Natalie Khawam, founder of the Tampa, Florida-based Whistleblower Law Firm and attorney for the family of Spc. Vanessa Guillen, a 3rd Cavalry Regiment soldier.

"It's time we fix our system," Khawam said Wednesday during a press conference in Washington, D.C. "Women should not be afraid to come forth about sexual harassment."

Khawam also demanded a congressional investigation into Fort Hood's handling of the case.

Maj. Gen. Scott Efflandt, deputy commander of Fort Hood, said during a Thursday press conference at Fort Hood that he is open to outside investigation.

"As part of an external review, is why I requested FORSCOM to come down and do a review of the SHARP (sexual harassment) program at Fort Hood, Texas," Efflandt said. "So, the source of the external review matters not to me. I welcome it, because that's what we do in the Army."

Guillen's mother, Gloria Guillen, had said multiple times that her daughter had told her she had been sexually harassed.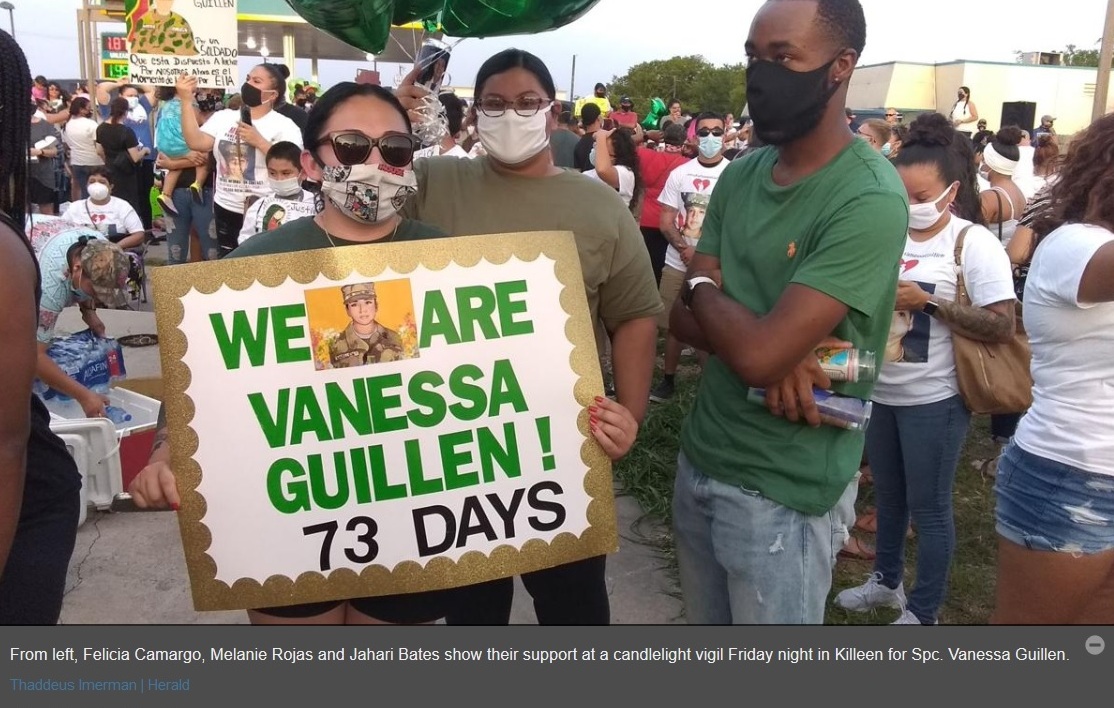 "We want legislation," Khawam said Wednesday. "We need legislation so this never happens again."

It wasn't until June 18, nearly two months after her disappearance, that Fort Hood announced that Col. Ralph Overland, 3rd Cavalry Regiment commander, had appointed an investigating officer to investigate the sexual harassment claims.

On Thursday, Damon Phelps, senior special agent of Fort Hood CID, said no credible evidence has been found that Guillen had been sexually harassed.

Khawam had said: "We want a bill in her name, I Am Vanessa Guillen, ready to be passed that says you don't (need to) be afraid to report sexual harassment."

Khawam said third-party organizations should be available for soldiers to report sexual harassment to, something many civilian companies have.

Guillen's story caught the attention of the highest-ranking official of the Army, Secretary of the Army Ryan McCarthy, as well as federal lawmakers.

McCarthy posted about the case on his Secretary of the Army Facebook page Monday afternoon.

"We are very concerned for the welfare of PFC Vanessa Guillen and we fully understand the frustration felt by the family, friends and fellow Soldiers of Vanessa," McCarthy said in the post. "We are doing everything in our power to get her back and will not stop until we do."

Guillen was a private first class, but was promoted July 1 to specialist.

Federal lawmakers making statements about the Guillen case included Reps. Sylvia Garcia, D-Houston; John Carter, R-Round Rock; Roger Williams, R-Austin; and Tulsi Gabbard, D-Hawaii. Sen. Ted Cruz, R-Texas, has also made statements about the case.

Gabbard, a veteran, agreed with Khawam that there needs to be reform within the military.

"For years, the Department of Defense has talked about reform," Gabbard said during Wednesday's press conference. "For years, Congress has pushed the Department of Defense towards the necessary reforms. Some changes have been made, but these changes have not gone nearly far enough. What is happening here today is evidence of that."

THE DISAPPEARANCE

Guillen's family, including her older sister Mayra Guillen, has criticized Fort Hood's response to her disappearance.

"I still don't understand why it had to take a little bit more than six weeks ... for them to start taking action, because we started since day one," she said at a press conference outside Fort Hood on June 23.

Efflandt told 30 news agencies Thursday that the investigation into her disappearance began April 23 when her unit reported her missing to Fort Hood CID.

News of Guillen's disappearance reached media outlets on April 24.

Guillen was last seen between 11:30 a.m. and 12:30 p.m. April 22 in the parking lot of her unit, according to news releases from Fort Hood officials and Army CID Chief of Public Affairs Christopher Grey. She was last seen wearing a black T-shirt and purple fitness-style pants.

Attention of the case grew in mid-May when Guillen's family held a press conference near the intersection of North Fort Hood Street and West Rancier Avenue, just outside two gates to Fort Hood.

Prior to the press conference, Fort Hood released a statement updating the investigation into the disappearance of Guillen.

On May 22, one month after Guillen was last seen, the family, and members of the public, held a protest at the same location as the press conference.

Beginning June 12, the protests became weekly on Fridays.

The family vowed at the protests and the May press conference to never give up questioning Fort Hood and demanding answers.

Their pressure culminated in multiple in-person meetings with Fort Hood officials, including one June 23.

Garcia, Khawam and representatives from the offices of Williams, Carter and Cruz, accompanied the family to the meeting with Maj. Gen. Scott Efflandt, Fort Hood deputy commander; Overland and Army CID officials.

At a press conference outside post, Garcia said Fort Hood officials told her and the family that they suspected foul play to be involved in Guillen's disappearance.

One of Guillen's older sisters, Mayra Guillen, said she was surprised.

"I'm surprised they even admitted the foul play," she said Wednesday at the press conference in Washington, D.C.

Mayra Guillen said the Army has lied to her and the family since day one.

On Tuesday, a team of searchers with Texas EquuSearch and other agencies, including the Texas Rangers and Bell County Sheriff's Office, returned to the Leon River in Bell County after remains they found were identified as human.

Tim Miller, director of EquuSearch, said Tuesday that he believed the remains to be that of Guillen.

"The remains recently discovered have not yet been positively identified," Efflandt said during the Thursday press conference.

Early Wednesday morning, Spc. Aaron David Robinson, a suspect in the case, took his own life when Killeen police attempted to make contact with him in Killeen.

Separately Thursday, Bell County authorities identified a second, civilian suspect as Cecily Anne Aguilar, 22, of Killeen.

Aguilar was charged with one count of conspiracy to tamper with evidence in the case, according to a news release late Thursday from the United States Attorney's Office Western District of Texas.

"Robinson told Aguilar that he killed a female soldier by striking her in the head with a hammer while on Fort Hood on April 22, 2020. Robinson further admitted to Aguilar that he transferred the woman's body off of Fort Hood to a remote site in Bell County," the release said. "Subsequently, Robinson enlisted the help of Aguilar in disposing of the dead female's body. The complaint further alleges that at a later time Aguilar recognized the deceased, whom she helped Robinson mutilate and dispose of, as Vanessa Guillen. The remains found in Bell County have yet to be formally identified by authorities.".