Dear Supporters,
One thing was striking about the heated campaigns leading up to Election Day -- the absence of any substantive discussion of the wars in Iraq and Afghanistan.
Even with all the talk of deficits and economic crisis, no politician was brave enough to acknowledge that the ongoing wars are bankrupting this nation and destroying the younger generation. It's as if the political parties have accepted that the wars will go on indefinitely, regardless of cost.
So, no matter which party controls Congress, one thing seems unlikely to change -- our government's unwillingness to end the occupations in Iraq and Afghanistan.
That is why we launched Operation Recovery, our campaign to stop the deployment of troops suffering from Post Traumatic Stress Disorder, Military Sexual Trauma (military rape), Traumatic Brain Injury, and Combat Stress. Without the use of traumatized troops -- conservatively estimated at 20% of the fighting force -- the wars could not continue.
As Veterans Day approaches next week, will you lend your name to help meet our goal of
10,000 Pledges of Support
for the Operation Recovery campaign?
If you have not already signed the Pledge, now is the time. Add your name by clicking here.
Our campaign has been slowly building momentum, but we are at a critical juncture, and we could use your help. Starting November 11, Veterans Day, we will conduct a national mass outreach effort targeting GIs on military bases and veterans on college campuses. We will do surveys and hold teach-ins to learn more about the health conditions veterans and GIs are facing today and bring more people into the Operation Recovery campaign.
Letting GIs and veterans know that we have 10,000 supporters standing with us will send a powerful message that they are not alone.
Can you help us meet this goal? It will take 60 seconds or less to sign the Pledge of Support. Just click here.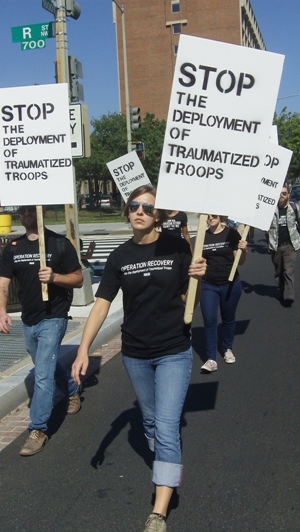 Today we are at 4,663 pledges.
We need 5,337 more signatures to meet our goal of 10,000 by Veterans Day.
With your help, we can get there.
Take the Pledge of Support now.

Thank you for standing with us.
In Solidarity,
The Campaign Team
P.S. To learn more about the Operation Recovery Campaign and see clips from our launch in Washington, D.C., click here.