Conscientious objectors who refused to fight in First World War honoured
Tom Marshall

Wednesday, May 21, 2014

HAM & HIGH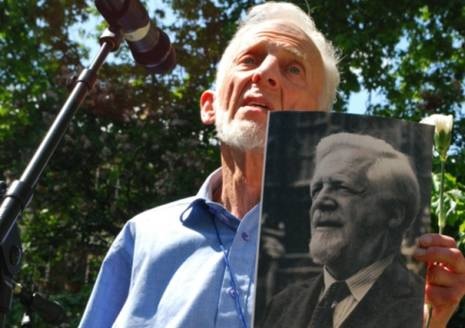 Paul Silverman shows a photo of Sydney Silverman and addresses the International Conscientious Objectors Day commemoration in Tavistock Square. Picture: Polly Hancock
Conscientious objectors who refused to fight in the First World War were honoured by relatives and peace activists at a stirring ceremony.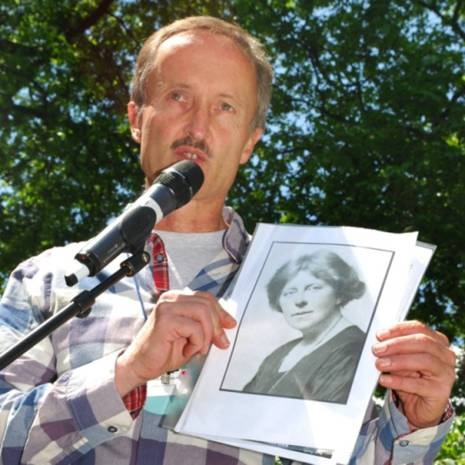 Simon Colbeck, relative of Catherine Marshall, at the International Conscientious Objectors Day event. Picture: Polly Hancock
In the centenary year of the Great War's outbreak, hundreds gathered at Tavistock Square last Thursday to remember the "courageous men" who chose to reject the call-up on political, religious or moral grounds – including the man who went on to abolish the death penalty.
Dozens who addressed the crowd spoke with pride about their relatives' refusal to compromise on their principles – whatever the consequences.
They told of extreme hardships suffered as a result, as many of the 10,000 objectors were imprisoned with hard labour. Several were locked up in appalling conditions which cost them their lives.
Paul Silverman said his father Sydney Silverman, the Labour MP, was court-martialed and sentenced to two years' hard labour for his refusal to fight.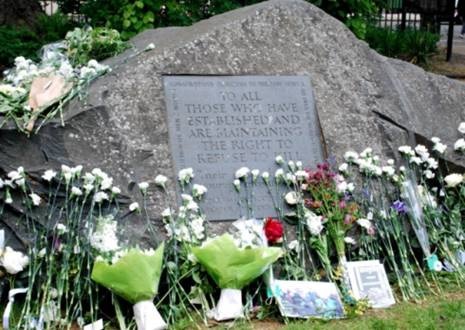 International Conscientious Objectors Day 2014 commemoration in Tavistock Square 15.05.14. Pictured the memorial stone in Tavistock Square. Picture: Polly Hancock
His father, who lived for 20 years in Finchley Road, Hampstead, would go on to serve in the House of Commons from 1935 until his death in 1968 – becoming best known for his private members bill which abolished capital punishment for murderers in 1965.
Mr Silverman said his father's First World War experience led to his successful campaign to end executions.
The 80-year-old, of Cheverton Road, Archway, said: "He was very much opposed to war on political grounds as a socialist.
"His opposition to the death penalty and his conscientious objection were linked, because of his antagonism to the death penalty. One led to the other."
He added that his father took a different position towards the Second World War, being a leading Jewish figure who was one of the first people to hear about the atrocities of the Holocaust.
"He was not against struggle," he said. "What he was against, was militarism and armies and the fact that the aim of war is to inflict capital punishment on the enemy, on enemy soldiers."
The International Conscientious Objectors Day event featured performances from the gospel choir of Maria Fidelis Catholic School in Somers Town.
Family members carried photos of their ancestors and laid flowers at a granite memorial to conscientious objectors, which was erected in the Bloomsbury square in 1994.
Jeremy Attlee, the grandson of architect Tom Attlee, whose Prime Minister brother Clement enlisted during the First World War, joined the ceremony.
The Christian pacifist was an "absolutist" – an objector who also refused non-combatant service such as ambulance or farm work – and was jailed for more than two years.
Mr Attlee, 71, of Upper Park Road, Belsize Park, said: "I'm proud of what he stood for and in agreement with what he stood for.
"It was a terrible time for everybody with very difficult decisions to make.
"I respect those who took different decisions, but I think he made the right decision and history has proved him right. It was a pointless war which cost millions of lives and caused untold suffering."
Simon Colbeck, 59, a social worker from Watford, spoke about his grandfather's cousin, Catherine Marshall, one of few women to be honoured.
Ms Marshall, who lived in Linnell Drive, Golders Green, was a prominent activist and a significant figure in the campaign against conscription, and instrumental in persuading Britain's greatest philosopher, Bertrand Russell, to take up the cause.
Mr Colbeck said: "There's still a tendency to think they were just cowards, using it as an excuse.
"It's important to remember how some died in prison and were prepared to face the firing squad for their beliefs."
For more information visit coproject.org.uk