Drop the charges against Joe Glenton.
MOD, London - Pictures
Terence Bunch | March 04 2010 | Globalisation | Social Struggles | Terror War | World
The day before Lance Corporal Joe Glenton of the Royal Logistic Corp appears before a military court to be sentenced for speaking out against the legitimacy of the continuing occupation of Afghanistan...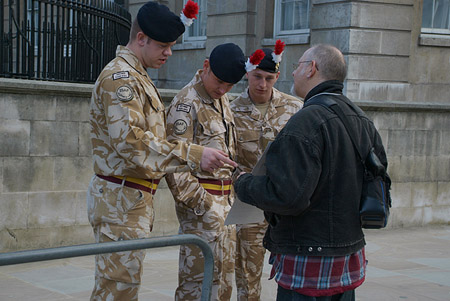 ISAF.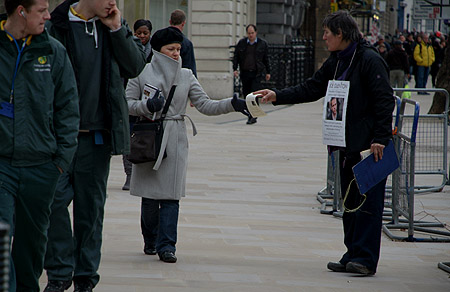 Handing out leaflets for support.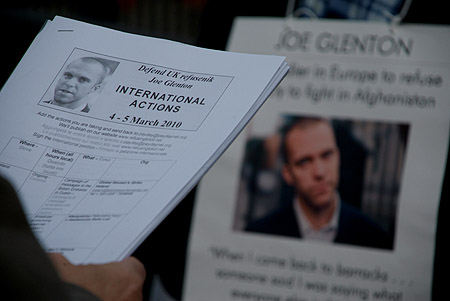 International Actions.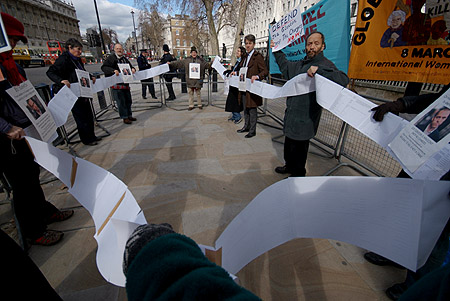 Thousands of signatures.

17,000 absences!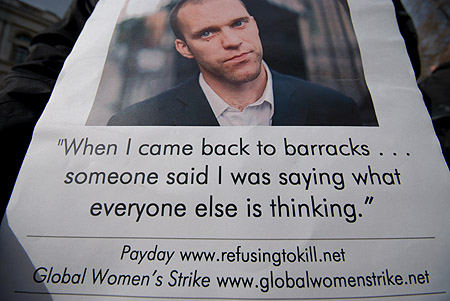 What everyone else is thinking!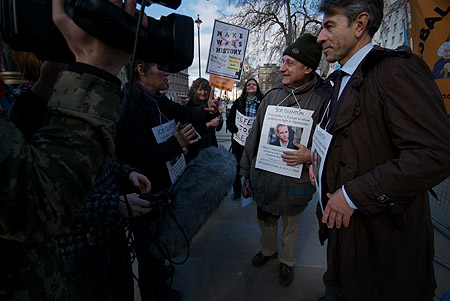 Media.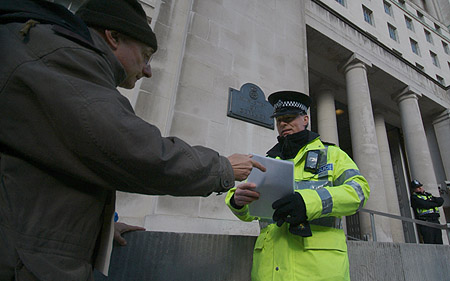 Handing into the MOD.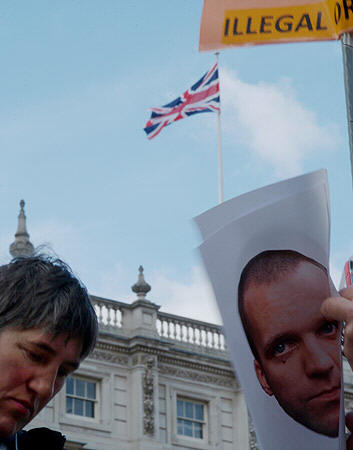 Illegal, Union, Soldier!
The day before Lance Corporal Joe Glenton of the Royal Logistic Corp appears before a military court to be sentenced for speaking out against the legitimacy of the continuing occupation of Afghanistan, and refusing to serve the occupation, campaigners gather at the British Ministry of Defence (MOD) to deliver a petition containing thousands of signatures demanding the charges be dropped against him.

The campaign is international in scope with synchronised actions taking place in Germany, Ireland, Poland, Russia, Turkey and the US.

The campaigners deliver their petition successfully to the MOD via a senior MOD police officer.

L/C Joe Glenton is due to be sentenced tomorrow at Colchester and faces up to two years imprisonment.

In the later part of 2009, Joe took part in a large anti-war protest where he defied orders to remain silent in public. The protest led to the British Military bringing supplementary charges against Joe which were later dropped due to public pressure.

He will appear at Colchester barracks for sentencing tomorrow Friday 5th March 2010. A further protest is also to take place outside the hearing.

MOD, London, UK. 4th March 2010.

For a timeline of events and actions outside the Colchester hearing see here:

http://refusingtokill.net/UKAfghanistan/Glenton%20International%20Actions%204-5-%20March.htm

Joe's attendance at the anti-war march 2009:
http://www.indymedia.org.uk/en/2009/10/440544.html
Terence Bunch

e-mail: terry.bunch@terencebunch.co.uk
Homepage: http://www.terencebunch.co.uk/PUBLIC/save-joe-glenton-drop-the-charges-international-protests-court-martial-mod-petition-london-uk-04-03-2010.php