Conscientious objectors and Spanish judge receive Dink award

17 September 2010,

TODAY'S ZAMAN, by YONCA POYRAZ DOĞAN İSTANBUL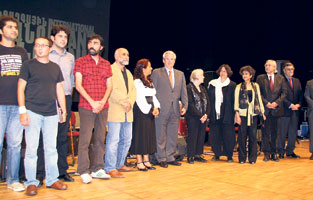 The International Hrant Dink Award was bestowed upon Spanish judge Baltasar Garzon Real (C) at a ceremony held on Wednesday at the Cemal Reşit Rey Concert Hall in İstanbul's Harbiye neighborhood.
The International Hrant Dink Award has been presented for the second time on Hrant Dink's birthday, Sep. 15, to Baltasar Garzón Real and the Turkey Conscientious Objectors Movement.
After receiving the award, Mehmet Tarhan, who spoke on behalf of the Turkey Conscientious Objectors Movement, said they will keep their promise to Hrant Dink. "We can continue on our way, taking strength from the sense of responsibility to Hrant who said, 'It was not suitable for me to leave bubbling hells and escape to ready-made heavens,' and to others who can say this," Tarhan said, addressing the audience on Wednesday night at İstanbul Cemal Reşit Rey Concert Hall.
Accepting his award Garzon underlined that the press plays an "indispensible role" in building a country. "Each country should provide every kind of tool to protect its citizens, especially for a more just and free society. The independence of the judiciary is an important point. The investigation of Hrant Dink has been a shame for all of us. The history of humankind is full of examples of the denial of crimes and impunity," Garzon stated.
The award is presented every year to two people from inside and outside Turkey who work for a world free of discrimination, racism and violence, take personal risks for their ideals, use the language of peace and, by doing so, inspire and encourage others, the International Hrant Dink Foundation announced. "With this award, the foundation aims to remind all those who struggle for these ideals that their voices are heard, their work is visible and that they are not alone, and also to encourage everyone to fight for their ideals," the foundation's statement said.
The European Court of Human Rights (ECtHR) ruled on Tuesday that Turkey failed in its duty to protect the life of the slain journalist and to effectively investigate his murder. Dink was shot dead by an ultranationalist teenager outside the offices of the Agos newspaper in İstanbul in January 2007. The investigation into his murder has stalled as the suspected perpetrator and his immediate accomplices have been put on trial, but those who masterminded the plot to kill him have yet to be revealed.
There is a lengthy list of suspicious irregularities in the investigation into Dink's murder, including deleted records and hidden files suggestive of an attempted police cover up. The Dink family's lawyers have argued much of the evidence indicates that the murder could have been prevented.
Opening the ceremony with writer and academic Ali Bayramoğlu, Rakel Dink said one purpose in giving the award is to keep people's consciousness alive. She also explained that the book just released by author Tuğba Çandar on Hrant Dink was a present to him
The 2010 jury of the International Hrant Dink Award consisted of author Adalet Ağaoğlu, author and academician Judith Butler, journalist Hasan Cemal, Member of the European Parliament Daniel Cohn-Bendit , President of the Board of Directors of the Hrant Dink Foundation Rakel Dink, journalist and the award winner of the International Hrant Dink Award 2009 Alper Görmüş, journalist and award winner of the International Hrant Dink Award 2009 Amira Hass, former Secretary General of Amnesty International Irene Khan, and President of Yerevan Press Club Boris Navasardian
http://www.todayszaman.com/tz-web/news-221879-101-conscientious-objectors-and-ish-judge-receive-dink-award.html
HOME