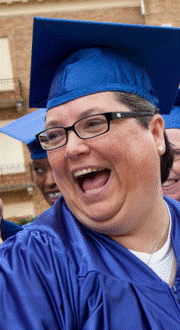 Monday 2 March at 7pm, the state of Georgia is scheduled to execute Kelly Gissendaner, a mother and theologian who has profoundly transformed her life and the lives of many others.
Convicted for planning the 1997 murder of her husband, she experienced utter despair, bitterness, and hopelessness at who she had become.1
Through the ministry of prison chaplains and a theology program in prison, Kelly has become a powerful voice for good in prison.2 She has become a mentor to at-risk youth, a pastoral presence for inmates, a preventer of prison suicides, and a pen-pal of famous theologian Jürgen Moltmann.3
As people of faith, we believe in the power of forgiveness, mercy, and transformation.
Yet despite the testimony of numerous clergy, theology professors, and her two children pleading for their mothers' life, the Board of Pardons and Paroles condemned Kelly to death.4
We still have a window of opportunity to stop this execution. But it's closing fast.
Click here to tell Governor Deal to STOP the execution of Kelly Gissendaner – and commute her sentence to life in prison.
Join with us—her friends, teachers, and people who value Kelly's life—to call on Governor Deal to halt the execution of Kelly Gissendaner.
Join with us to tell him he does have the power to stop Kelly's execution. Join with us as we gather in faith, prayer, and hope to fight for Kelly.
Tell Governor Deal to STOP the execution of Kelly Gissendaner.
Monday night approaches. Yet, as people of faith, we know that as long as Kelly has breath, hope is still alive. So we must act, while there is still time.
In hope,
Rev. Kimberly S. Jackson, Letitia M. Campbell, and Jeania Ree V. Moore
#KellyOnMyMind
This message was sent through Groundswell by local Georgia activists of faith and moral commitment who are working to stop the execution of Kelly Gissendaner.
[1] "Meeting Kelly Gissendaner," Huffington Post. February 27, 2015.
[2] Videos: "Kelly Gissendaner" and "Nikki's Story
,"

Sema Films

.

February

28, 2015.
[3] "A

Death

Row

Inmate

Finds

Common

Ground

with

Theologians

,"

The New York Times

.

February

27, 2015.
[4] Application to the Georgia

Board

of Pardons and Paroles on

behalf

of Kelly Renee

Gissendaner

.

February

24, 2015.
GROUNDSWELL: Inspiring faithful action to heal and repair the world. We offer tools and resources for organizing online, and we find and share the best faithful content on the Web daily. Powered by Auburn Seminary.
<![if !supportLineBreakNewLine]>
HOME<![endif]>