Breaking news from Wednesday, Day 7 and final day of the trial –
VICTORY: No conviction, hung jury ending in mistrial!!!

After closing arguments Wednesday, the jury came back deadlocked, resulting in a mistrial. Andre, Carrington, and Duane have not been convicted on any charges. PLEASE STAY ALERT FOR ACTIONS TO TAKE NOW TO PUBLICIZE THIS VICTORY! Full report from Wednesday's closing arguments and jury results coming soon.
---
Court Report from Tuesday April 12 – Day 6 of the Dallas 6 Trial
in Wilkes-Barre, PA
The Dallas 6 are six African American prisoner whistleblowers in solitary confinement at SCI Dallas Pennsylvania charged with rioting for peacefully protesting on April 29, 2010 against widespread abuse, violence & torture by prison guards of Black, Latino and white prisoners which they had documented. The remaining three facing charges – Andre Jacobs, Carrington Keys, and Duane Peters – finally have a jury trial after almost six years. For info or to support: scidallas6.blogspot.com. Donations: tinyurl.com/rally4dallas6
The judge rejects outrageous proposal by the DA for jury instructions
· The judge rejected the prosecutor's outrageous proposed instruction to the jury that prisoners don't have the same constitutional rights as other people, along with other biased instructions.
· Re. the prosecution's claim that Carrington threw feces at guards during the incident, the judge ruled that both Carrington's jury instruction regarding the DOC's failure to produce evidence, and the DA's jury instruction that the Commonwealth is not required to present "chemical evidence", can be given.
Defendants take the stand in their own and others' defense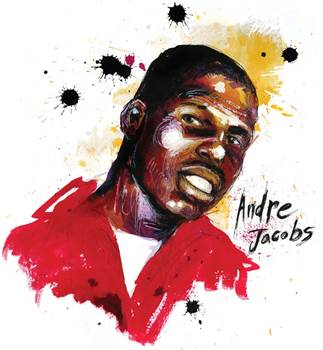 graphic by Molly Crabapple
· Andre Jacobs described in detail the abusive conditions he faced at SCI Dallas, and the lack of avenues for complaint both inside the prison and outside. He was transferred to SCI Dallas in retaliation for his winning a lawsuit against the DOC. He faced further retaliation for participating in the Human Rights Coalition (HRC) report documenting abuses, testifying on behalf of another prisoner, and filing many grievances, complaints and lawsuits. Several of his grievances and lawsuits, as well as misconduct reports against him, and a "grievance restriction" order were submitted as evidence and used to illustrate the conditions the prisoners faced.
· Andre stated that the guards use the grievance system to trap prisoners into misconduct charges. He described an absurd process of repeatedly filing grievances, appealing, and being rejected up to the superintendent of the prison, which leads to retaliation by guards, and another cycle of rejected grievances. It got to the point that he didn't even go to the grievance hearings – not only would it accomplish nothing, it was risky to even leave his cell at this time because guards would attack him or otherwise trap him into another misconduct charge. He didn't come out of his cell for three months straight in late 2009 for this reason – not even to shower. Some of the other retaliation he mentioned was deprivation of food, yard time, water, toilet paper; reading out his mail; and not respecting his religiously-based diet, citing him for having cups that the guards did not come by to collect. One particularly vicious form of retaliation was his "counselor" telling his aunt who had tried to visit that he was not allowed visits, which was not true, and prevented him from seeing loved ones. Guards also slandered him to a nurse and other inmates totally falsely saying he committed a sexual offense with a child and that he "liked little boys".
· In early 2010, Andre with the help of HRC filed a criminal complaint against Dallas prison. Andre had been in weekly contact with HRC since June 2009, and he recognized Shandre Delaney of HRC who was present in the courtroom. (Duane's aunt was also present.) On April 16, 2010 a judge ordered a hearing on this lawsuit, and after this point the guards ramped up their attacks. In March 2010, Andre also was placed under a "grievance restriction" which prevented him from filing any grievances or lawsuits for 90 days.
· Andre testified that after Isaac Sanchez was tortured in the restraint chair on April 28, Sgt. Buck threatened all the prisoners mentioned in the HRC report with the same treatment. His intent in covering his cell door was to speak with a supervisor. He had covered his cell doors "at least 10 times" while at SCI Dallas, and never faced a cell extraction. The prisoners had no opportunity to confer with each other ahead of time, nor communicate across their separate cells, their actions were not planned, but taken in response to the escalation of the situation by the guards.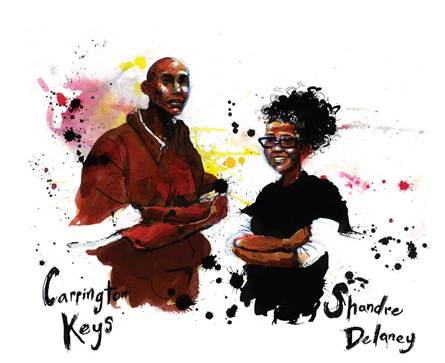 graphic by Molly Crabapple
Carrington Keys testified that he had covered his door in response to Isaac Sanchez's continuing torture in the restraint chair, to retaliation and threats against himself and others, and to get the attention from the outside, not to coerce cell extraction which he had no expectation of until it began. He had also been involved in the HRC investigation of some of the same guards that attacked him in the cell extraction – they accused him of this while they were beating him. He had pursued relief not only through grievances and criminal complaints, but through HRC, his state representatives, state police, federal representatives, and US Attorney General, among others. Guards retaliated against him by destroying his legal documents, tampering with his mail, denying him access to the law library, assaulting him on the way to yard and showers, turning of water to his cell, sometimes for days. When they cut off the water, prisoners had to pass water to each other under their doors.
· Carrington explained that he had smeared his clothes with feces to keep the guards from carrying out their threat to pull out his hair (which was in dreadlocks) and bash his teeth in. He said he knew from experience that these were not idle threats. He never threw anything. He was trying to block the pepper spray by blocking the door. He didn't put his hands through the door slot to be cuffed as commanded because the guards were already pepper spraying. Like Andre, he had covered his cell door many times before (20 times or more) and never had faced cell extraction.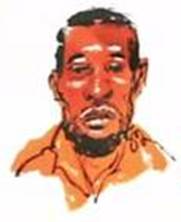 Duane Peters, graphic by Molly Crabapple
· Duane Peters testified that there were two separate times they had covered their cell doors on April 29. First, Isaac Sanchez was being tortured in the restraint chair and they had covered their doors to get the attention of Lt. Mozier to release him. Isaac was screaming through the night that his arms were turning purple, and that he was freezing. He was naked, it was cold outside, and they had the outside doors to the prison opened.
· Once Isaac was released from the chair, the prisoners took down the coverings from their doors. Duane was helping calm down the other prisoners, when Sgt. Buck came by and escalated the situation, accusing him of giving legal advice and threatening him and others. The prisoners put up the coverings again to defend themselves. Prior to his extraction, Duane had called out for the public defenders, as they were supposed to be their guardians, according to the DA who had refused to act in relation to their complaints and grievances – but to no avail.
· Duane also added to the list of retaliations by saying that Sgt. Buck had read out aloud to all the prisoners a letter Duane had written to his mother, and then ripped it to confetti in front of him. He had also tried to cut off Duane's arm in the door slot.
---

Daily coverage of the trial by NBC 28 Scranton (Note: exact link may have changed, you may have to search video on website)

Times-Leader (Luzerne County):
Hung jury leads to mistrial for members of 'Dallas 6'
Jury seated for trial of 3 inmates accused of instigating prison riot
Prosecutors: 'Straightforward' charges against members of 'Dallas 6'
<![if !vml]>
<![endif]> Dallas Post (Luzerne County):
Closing arguments made in trial of "Dallas 6" inmates
---
MAKE A DONATION! Online at http://tinyurl.com/rally4dallas6 or send check/money order payable to Abolitionist Law Center, P.O. Box 8654 Pittsburgh PA 15221 Memo line: Dallas 6
DROP THE CHARGES!
For those who can't make it to the trial but want to show support, please take part in a CALL-IN/FAX-IN to the DA demanding she drop charges. Details and talking points at - http://tinyurl.com/dallas6letter
Dallas 6 online:
Blog – http://scidallas6.blogspot.com/
Facebook – http://tinyurl.com/packthecourtd6
Twitter - Follow @madinah7 for trial updates
Twitter Hashtags - #Dallas6 #Justice4Dallas6
Video - March for freedom - March 18, 2016 - http://tinyurl.com/d6marchforfreedom
Truthout article by Shandre Delaney:
"Dallas 6" Prisoners Face Trial for Protesting Abuse in Solitary Confinement
Letter to Luzerne County District Attorney to dismiss the charges against the Dallas 6, endorsed by the PA Council of Churches and signed by over 75 representatives of faith-based organizations.
Contact: Shandre Delaney, mother of one of the Dallas 6; Human Rights Coalition 412-403-6101
Phoebe Jones, Justice for the Dallas 6 Support Campaign; Global Women's Strike 610-505-4944
Justice for the Dallas 6 Support Campaign: Abolitionist Law Center; Every Mother is a Working Mother Network; Fight for Lifers West; Germantown Friends Meeting Mass Incarceration Working Group; Global Women's Strike & Women of Color@GWS – US; Human Rights Coalition – Fed Up; Human Rights Coalition – Philadelphia; Marcellus Shale Earth First; Mishkan Shalom New Jim Crow Study-Action Group; Payday men's network; Peacehome Campaigns; Shalefield Organizing Committee. Endorsements: Art for Justice; Brandywine Peace Community; California Families Against Solitary Confinement (CFASC); The Center for Returning Citizens (TCRC); Decarcerate PA; Defending Dissent Foundation; Global Women's Strike & Women of Color@GWS – UK; Green Party of Philadelphia (GPOP); Human Rights Defense Center – Lake Worth, Florida; Jewish Voice For Peace - Philadelphia; People's Opposition to War Imperialism and Racism (POWIR) – Hollywood, Florida; Philadelphia Coalition for REAL Justice; San Francisco Bay View newspaper; Sin Barras – Without (Prison) Bars – Santa Cruz; T'ruah: The Rabbinic Call for Human Rights; WHAT'S UP?! Pittsburgh; Welfare Warriors; Women's International League for Peace and Freedom (WILPF) – Philadelphia. Individual Endorsements: Pam Africa, International Concerned Family and Friends of Mumia Abu-Jamal; Patrice Armstead, Building People's Power and Coalition Demanding Reinstatement of Dr. Monteiro; Malik Aziz, Founder, Men United for a Better Philadelphia and Chairman, National Exhoodus Council; Pastor Antoinette Johnson, King Solomon Baptist Church; Dr. Anthony Monteiro; Rev. Bob Moore, Executive Director, Coalition for Peace Action (for id purposes only); Margaret Prescod, host of "Sojourner Truth" on Pacifica Radio; Dr. Heather Ann Thompson, Professor of African American Studies & History, Temple University; Dr. Cornel West, Princeton University; Dr. Carla Willard, Africana Studies Program, Franklin & Marshall College. Partnering with: AFSC Prison Watch.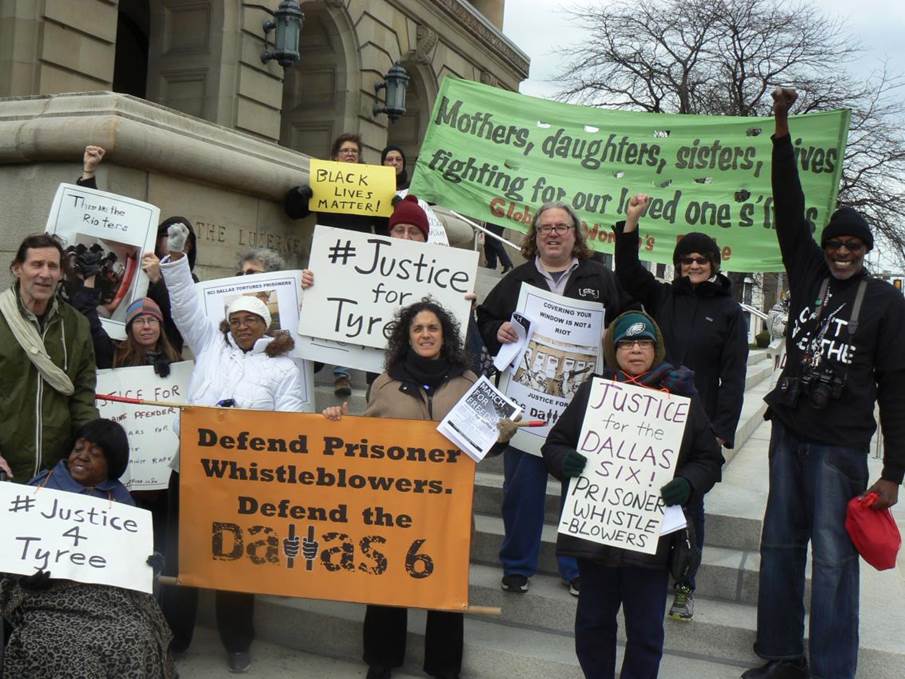 March for Freedom for the Dallas 6 at the Luzerne County Courthouse, March 18, 2016