Dear friends,
Thank you for signing the letter opposing the Royal College of Psychiatrists' (RCP) endorsement of prison Close Supervision Centres (CSCs) – segregation units where prisoners are held in conditions which amount to solitary confinement. Almost 60 organisations have signed along with over 200 individuals including Prof. Angela Davis, author and anti-racist campaigner Selma James, former Chief Inspector of Prisons Lord Ramsbotham, miscarriage of justice victim Winston Silcott, Prof. Benjamin Zephaniah and a number of practicing psychiatrists.
We are handing in the letter to the RCP this coming Monday, 7th December 2020 at 11am London time with a small, socially-distanced delegation. We will also give it to the Ministry of State for Justice, as well as the shadow minister responsible.
We would appreciate your help to publicise this and to put pressure on the RCP to withdraw its endorsement of CSCs which is covering up for abuse of prisoners.
If you are on Twitter, could you please tweet at the RCP (@rcpsych) on Monday 7 December demanding that they stop endorsing prison CSC segregation units. We suggest an image and tweet below. Please tag Payday in your tweets - @PaydayRTK. For those of you who are not on Twitter, please phone Dr Adrian James at 020 723 52351 or write to him on the RCP form which can be found here and demand an end to their endorsement of these barbaric institutions.
---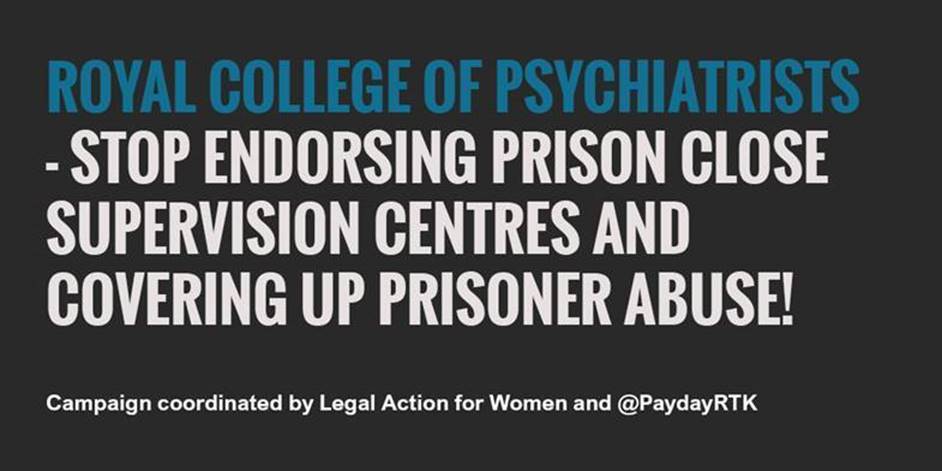 Prisoners say CSC segregation units "inflict massive psychological harm'; Amnesty Intl says CSCs are "cruel, inhumane, degrading". CSCs are racist as > 50% of prisoners there are Muslim. The @rcpsych accreditation aims to hide this abuse. More info https://novaramedia.com/2020/11/09/psychiatrists-are-covering-for-cruelty-in-prisons-a-group-of-campaigners-wants-to-stop-them/
---
We will also tweet from the Monday delegation, please keep an eye and retweet if you can.
Thanks for all the help and support so many of you have given to this campaign which does not end here. We are working on various follow-up activities including a webinar on the resistance to segregation units spearheaded by prisoners and the illegitimate use of psychiatry as a cover for repressive measures in detention centres and prisons.
Yours in solidarity,
Niki Adams for Legal Action for Women
Sam Weinstein for Payday men's network