VIGIL OUTSIDE APPEAL COURT
to keep DANIEL ROQUE HALL out of prison
Tues 8 January time to be confirmed pls see Facebook
Royal Courts of Justice, Strand, London, WC2A 2LL
On New Year's Day, Daniel won an emergency injunction to prevent UCLH from discharging him to Wormwood Scrubs prison. Despite being told and faxed, early on 2 Jan, an ambulance took Daniel to Wormwood Scrubs, only to return to UCLH! Daniel's lawyers have lodged an appeal against his three year prison sentence as disproportionate and a breach to his human rights given the severity of his disabilities and the risk to his life. He nearly died after just seven weeks in prison, and has only partially recovered after four months of specialist care in hospital. On Tuesday they will seek to have the injunction extended until the appeal date.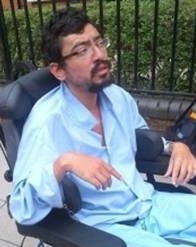 Daniel Roque Hall
John Podmore, former governor of Brixton prison told The Guardian: "Managing somebody with chronic, advanced ataxia disease in a prison setting would be virtually impossible without bringing in considerable resources or diverting them from somewhere else, and the pressures on a prison hospital in London are considerable and not conducive to an environment required by someone with such a disability . . ."
Social work professionals wrote to the Guardian to say: "Despite the insistence of the governor, Wormwood Scrubs cannot and will not provide the level of expertise and care he requires. We therefore urge the minister to ensure that Daniel serve the remainder of his sentence at a suitable place of confinement, properly adapted to his needs, or tagged at home." More
Daniel's mother Anne Hall is leading the campaign to save his life:
"UCLH saved my son's life and I will be eternally grateful to all the wonderful staff who have provided dedicated and expert care to Daniel, day and night. They could not have done more. No UK prison can meet his complex care needs. To send him back would amount to a death sentence – he has already been punished far in excess of the three years he was given."
What you can do:
Write now to Professor Tony Mundy at UCLH tony.mundy@uclh.nhs.uk and Sir Robert Naylor at UCLH NHS Foundation Trust Robert.naylor@uclh.nhs.uk to urge them not to discharge Daniel back to prison for the sake of his health and his life.
Write to Prison Minister Jeremy Wright MP asking him to let Daniel serve his sentence at home: chloe.burton@justice.gsi.gov.uk. Please send copies of your letters to danielroquehall@yahoo.co.uk
Ask your MP to sign EDM 631 – see below.
Sign the petition – Justice for DanielHYPERLINK "http://www.gopetition.com/petitions/justice-for-daniel-roque-hall.html" HYPERLINK "http://www.gopetition.com/petitions/justice-for-daniel-roque-hall.html"RoqueHYPERLINK "http://www.gopetition.com/petitions/justice-for-daniel-roque-hall.html" HYPERLINK "http://www.gopetition.com/petitions/justice-for-daniel-roque-hall.html"Hall
New Year's Eve – Carers, friends, and supporters gather outside Wormwood Scrubs calling for Daniel to be allowed to serve the rest of his sentence at home.
John McDonnell MP has tabled an Early Day Motion – 18 MPs have signed it so far.
That this House notes that Daniel Roque Hall is a 30-year-old severely disabled man with Friedreich's Ataxia, a multi-system and fatal illness, now so advanced that he cannot use his arms or legs, has blurred vision, damaged speech, heart failure, cardiac arrhythmia and Type 1 diabetes; further notes that he was imprisoned for attempting to bring cocaine into this country, but recognises that, given the seriousness of his condition and the complexity of his care needs, prison is not suitable for him, bearing in mind that seven weeks through his three-year sentence he was taken to hospital where he remains two months later after spending over a week in intensive care; further notes that his mother, his GP, the former HM Chief Inspector of Prisons, Lord Ramsbotham, disability and other organisations, including Ataxia UK, Liberty and WinVisible and over 1,400 people who signed a petition, have warned that a return to prison would amount to a death sentence for him; welcomes the decision of the Secretary of State for the Home Department to stop the extradition of Gary McKinnon because it would subject him to inhuman and degrading treatment and endanger his life; and calls on the Secretary of State to show the same compassion to Daniel Roque Hall by allowing him to serve the rest of his sentence at home, where he can receive the appropriate care and medical support and be supervised by probation services.