SCRAP THE UK OVERSEAS OPERATIONS BILL
We write to ask if you could please endorse the statement (below) urging the UK House of Lords to scrap the Overseas Operations Bill. (The bill has been through the House of Commons and will return there once the Lords make amendments – date to be announced.)
This Bill creates a "presumption of no prosecution" which imposes a statute of limitation of five years on prosecution of UK Armed Forces personnel who commit torture and other war crimes, and six years for soldiers who want to make a claim of negligence against the Ministry of Defence.
Some politicians have defined the Bill as "Trumpian". If passed, the Bill would parallel Trump's pardoning of the Blackwater mercenaries who were convicted of murdering civilians in Iraq. It would encourage giving a green light to war crimes committed by armed forces all over the world, lowering standards of justice and accountability internationally. Women and children are among the most likely to be victims of violence in armed conflicts, and least able to get justice.
The UK military is present in over 40 countries. Please let us know if you are aware of any instances of war crimes the UK military has committed in your region, or indeed war crimes any armed forces have committed.
We ask you to sign the statement and also write a comment on the form, which we'll forward to the Parliamentarians. International pressure is essential. Thank you for signing and circulating to your network!
Watch this clip about the UK government cover-up of war crimes.
Invest in caring not killing,
Payday men's network / Refusing to Kill
Women of Colour / Global Women's Strike.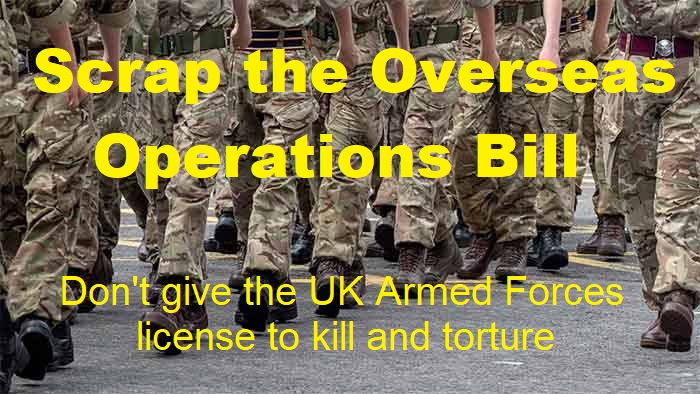 LICENCE TO KILL & TORTURE:
SCRAP THE OVERSEAS OPERATIONS BILL
As organisations campaigning for justice and protection for victims of war, we are alarmed at the Overseas Operations Bill due to be debated on 20 January in the House of Lords. We urge the House of Lords to vote against the Bill because it would:
· Introduce a "presumption against prosecution" for UK armed forces personnel accused of war-related crimes such as murder, torture, genocide, kidnap and crimes against humanity committed overseas more than five years ago.
· Prevent soldiers from bringing legal action against the Ministry of Defence for negligence that took place more than six years prior.
This Bill is the twin of the Spy Cops Bill (Covert Human Intelligence Sources (Criminal Conduct) Bill), currently also going through parliament, which would give impunity to undercover State agents who commit crimes in the UK and abroad. The Overseas Operations Bill seek to give regular armed forces impunity for similar crimes.
Rape and other sexual violence are excluded from the Overseas Operations Bill. But that doesn't mean that victims of rape overseas will get justice, especially considering that conviction rates in the UK are so low that rape has effectively been decriminalised. The All African Women's Group reports that rape and other torture are systematically downplayed and denied by the UK government when they are raised in asylum claims by people seeking protection from persecution. (The Lords have voted to exclude rape and murder from the Spy Cops Bill but there is no guarantee that even this will be accepted by the government.)
The government says the Overseas Operations Bill is needed to protect soldiers from "vexatious claims". But there is overwhelming evidence that war crimes have been committed by military personnel overseas and that the government has blocked attempts to bring them to justice, witch-hunting lawyers who brought cases on behalf of victims.
For example:
· Compensation of £20m has been paid to hundreds of Iraqi victims – proof of ill treatment by British troops.
· The 2019 Iraq Historic Allegations Team recorded 3,500 allegations of abuse, including torture of 146 Iraqi men yet there have been no successful prosecutions.
· The government shut down investigations into 675 criminal allegations from 159 people, including allegations of executions, including of children by British Special Forces in Afghanistan – no military personnel were charged.
· The International Criminal Court confirmed in 2020 that members of the British armed forces committed war crimes of wilful killing, torture, inhuman/cruel treatment, rape and/or other forms of sexual violence; in response the Senior Legal Advisor for Human Rights Watch concludes the "UK government . . . is actively obstructing justice".
· The death of Baha Mousa, an Iraqi man who suffered horrific beatings and torture whilst in the custody of the British Army. A corporal was found guilty of a war crime[1] – the first and only British soldier ever convicted of such - he said he was following orders. All others, including a colonel, were acquitted.
· Whistle-blowers and refuseniks, such as former SAS soldier Ben Griffin [2] have exposed widespread "extraordinary rendition" where people illegally detained by a joint UK-US special forces taskforce were transferred to interrogation and torture centres around the world, including Guantánamo Bay[3].
· Evidence of the persecution of journalist such as Julian Assange [4]. Assange exposed US/UK and other war crimes in Iraq and elsewhere, has been deprived of his liberty for 10 years and has only just had the threat of extradition to the US, lifted after 20 months in prison (much of it in solitary confinement) – where he remains.
The UK military has a well-documented history of rape, pillage, torture and murder in defence of empire and up to the present day, overwhelmingly (but not only) against people of colour. Wars and other conflicts have been promoted for the purpose of extracting resources and profit, and arms sold to regimes to repress populations protesting against poverty, war, land grabs and environmental devastation.
For example: the invasion of Iraq was about oil, which benefited US and UK companies; a military presence and billions of pounds of arms have been sold to countries like Oman (known for restricting rights to freedom of expression and peaceful assembly resulting in the torture of human rights defenders) and Saudi Arabia where the arms are used for internal repression and the war in Yemen.
The bill must be opposed because:
· No criminal offence of any kind committed by state agents should be subject to a presumption against prosecution. Allowing the military to effectively act with impunity is corrupting and an encouragement to commit crimes. It lays the basis for police states at home and abroad.
· Cover-ups, secrecy, corruption and lengthy administrative delays, mean war crimes can take years to emerge or be investigated – victims' trauma and injury has no time limit so neither should justice. The Bill would also limit the period for bringing civil and Human Rights Act claims.
· The UK military's overseas bases network involves 145 sites in 42 countries – that means contact with many millions of people whose rights are undermined by this Bill. In the last two years the UK has trained the armies of two-thirds of the world's countries, including 15 it has rebuked for human rights violations.
Opposition to Overseas Operations Bill has come from: women's, human rights, anti-war and military personnel as well as academics, prominent individuals and a parliamentary committee. Specifically, the Peace Pledge Union, Amnesty International and Liberty have called to scrap the Bill; the Parliamentary Joint Committee on Human Rights recommended scrapping the "presumption against prosecution" which is the core proposal of the Bill; Quakers and some military figures have demanded that torture be excluded from the Bill's time limits; the British Legion rejected the six-year time limit imposed on soldiers to make a claim against the Ministry of Defence. The Labour Party, which initially abstained (and has continued to abstain on the "Spy Cops" Bill), finally opposed the Overseas Operations Bill at the third reading in the Commons.
We call on all Parliamentarians to stop the Bill and defend the rights to redress for victims of torture and other war crimes by the UK Armed Forces overseas.
1 Baha Mousa, an Iraqi civilian died in 2003 while in the custody of the British army. An inquiry found his death was due to lack of food and water, excessive heat, exhaustion, fear, previous injuries and the hooding and stress positions used by British troops. He had suffered at least 93 injuries.
His family pursued the matter in British courts for years and the case was found in breach of the UK Human Rights Act and the European Convention on Human Rights.
Six of the seven British military personnel charged (including a colonel) were found not guilty. Corporal Donald Payne, cleared of manslaughter, pleaded guilty to inhumane treatment and was jailed for one year.
A three-year Inquiry looked into the case. Its report, issued in 2011, criticised the soldiers, but did not result in further prosecutions.
2 In 2008, former SAS soldier, Ben Griffin, was served with a high court order (a "gag order") to prevent him speaking about hundreds of Iraqis and Afghans captured by British and American special forces were rendered to prisons where they faced torture.
3 Refuseniks also include Joe Glenton, who in 2009 refused to return to Afghanistan on moral grounds and was jailed for nine months.
4 The continued imprisonment and trial of Julian Assange, under threat of extradition to the US for his Wikileaks activities which exposed rape, murder and other war crimes by US, UK and other armed forces.