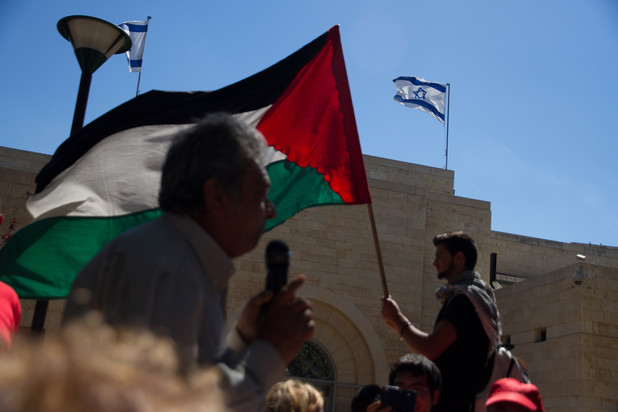 Palestinians in Haifa protest in solidarity with a Druze youth who refuses to serve in the Israeli army, 15 June.
(Omar Sameer

/

ActiveStills)
One of the largest assemblies of Palestinian community leaders inside Israel in the last decade was held in Sakhnin two weeks ago as Palestinians in Israel organize to push back against the state's new efforts to recruit Christians into the army.
Organized by the High Follow-up Committee for Arab Citizens of Israel, participants included Islamic movement leader Sheikh Raed Salah, Greek Orthodox Archbishop Attalah Hanna, Palestinian members of Israel's parliament, the Knesset, representing multiple parties, Druze sheikhs and other religious community leaders as well as activists, writers, judges and artists.
During the conference, a dozen of these prominent community leaders made brief speeches and shared their varying ideas about how to respond to Israel's attempts to enlist Palestinian citizens of Israel. Though different approaches were advocated, all spoke against the military and condemned the enlistment notices recently sent to 800 young Palestinian Christians in Israel.
The mother of conscientious objector Omar Saad spoke about her son's recent 150-day imprisonment for refusing to serve in the military. Poet and activist Alaa Muhanna presented his poem against militarization that he wrote especially for the young Druze youth. A group of young activists performed a play to demonstrate the army's violence against Palestinians, and the conference ended with a concert.
Defiance
The meeting was followed by a second, no less significant conference against Palestinian enlistment in the Israeli military held in Shefa Amr last week.
Organized by the "Refuse, Your People Will Protect You" campaign, the event was held in the municipality's conference hall, demonstrating the strength of the community's opposition to military service. With a few hundred attendees, the location of Shefa Amr is also significant because the town has a large Druze community, a religious minority which, unlike the wider Palestinian population in Israel, are required to serve in the army.
A group of twenty young men and women from the Palestinian community launched the "Refuse, Your People Will Protect You" campaign two years ago to end compulsory military service for young Druze men. The campaign's name deflates the myth Israel has used to justify and legitimize Druze service in the army: that Druze are not part of Palestinian society, being a minority amongst Christians and Muslims.
One of Israel's methods of divide and conquer has been to exploit sectarian differences and to instill fear in Druze that they can be an easy target of Muslim hostility, and that they can be protected by serving in the army. This campaign aims to change this mentality and demonstrate to the Druze community that they have the wider Palestinian nation's support.
"It is our responsibility and duty to acknowledge the government's attempt to enlist our youth to the army as a tool to hit our national identity," Knesset member (MK) Jamal Zahalka told The Electronic Intifada at the conference.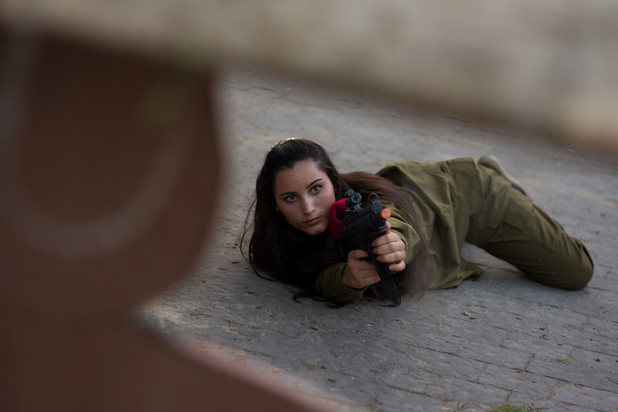 A Palestinian in Haifa performs as an Israeli soldier during an action against Israel's attempts to recruit Palestinians Christian citizens to the army, 17 May.
(Omar Sameer

/

ActiveStills)
"It's a violation of the Palestinian identity and a deprivation of our rights. It places our basic rights as citizens under condition, by tying our rights as citizens with serving the Israeli army. In other words, military service is a pre-condition to get basic rights," he said.
Underlining that Israel has long useddivide-and-rule tactics to try to repress Palestinian national identity, MK Haneen Zoabi said that "The government has been targeting the young generation for the past seven decades now. This conference proves the failure of the Zionist campaign to reform the Palestinian identity and distort it to what is called 'Israeli Arabs.'"
"Israel aims to disconnect the Palestinians in Israel from their nation and history, by binding their fate with Israel," she added.
Regarding the enlistment papers sent to hundreds of young Christians, she told The Electronic Intifada that "it is merely to test our reaction, and here in this conference they sure have it. We all oppose and reject this campaign and attempt."
Intimidation
Decision makers and community representatives across generations and from all religions and parties attended the conference. However, most heads of municipalities where the Palestinian population in Israel is concentrated were notably absent.
It was said by many community members that Prime Minister Benjamin Netanyahu's office warned them not to participate and tried to prevent the conference from taking place.
This did not stop Anan Shaheen, an 18-year-old Palestinian Druze, from tearing his compulsory enlistment papers in front of international and local media at the conference, stating: "I will not serve in the army that occupies my people."
However, most leading Israeli media sites and newspapers, except for the daily Haartez, chose to ignore it, despite the larger movement Shaheen's protest signifies.
False promise
Maisan Hamdan, 22, is from the Druze community and is one of the leading voices and activists in the "Refuse, Your People Will Protect You" campaign.
"The Druze serve in the military in the false promise of getting a reward [and] promises of more rights. After three years in the army [the Druze] still has 80 percent of his land confiscated; his rights are still deprived," she told The Electronic Intifada.
"This cause is a Palestinian cause and not only a Druze cause. That's why our activism extends beyond our campaign against military [recruitment], like our daily demonstrations for the right of the hunger strike of the Palestinian prisoners. We aim for liberation of our entire land, and we are united as Palestinians and not just as Druze. We have activists from Gaza and the West Bank working to stop this racist compulsory service," she added.
Hamdan explained the difficulties in convincing Druze youths to refuse compulsory military orders given that state benefits and employment in Israel are often dependent on military service.
"The only options we have to exempt service are either proclaiming insanity … or going to prison. The first option is very problematic; it is forever printed on the young man's file and damages [any] job and career future. And of course, going to prison is also not an easy option to take," she said.
"Refuse, Your People Will Protect You" aims to educate youth about what occurred in the 1950s when three Druze leaders signed an agreement with the Israeli army on behalf of the wider community, isolating the Druze from the rest of the Palestinian nation until this day.
Despite that agreement, which designated the Druze a national group distinct from the rest of the Palestinian minority in Israel, the Druze community is at the bottom of the social-economic scale. There is a high unemployment rate within the community and only a very small percentage of Druze men seek higher studies.
In 2012, Israel's Central Bureau of Statistics reported that only 28 percent of Druze men had a high school diploma, and just 13.4 percent received a higher education degree.
There are cultural consequences as well, including a loss of identity. In the army, many Druze are placed at checkpoints or at the front lines of Israeli wars against the Palestinians and Arab neighbors.
Alternatives
"We are placed with the difficulty of finding alternatives for the young men," Hamdan said. "We are talking about 17-year-old teenagers who are confronted with a very difficult decision, one that will surely lead to penalties from the Zionist system, whether deprivation of rights or imprisonment."
But campaigners are working to overcome these formidable obstacles.
"These men have to have an alternative. At the moment we are raising funds to give young Druze men academic scholarships to universities and colleges," Hamdan explained.
"We believe this method has a great impact on convincing them and their parents that there will be a platform protecting the young men from being easy targets. They will be in the academy rather than the occupation army. It is essential to have this funding. This cause should be not be less important than any other Palestinian cause," Hamdan said.
"We are correcting the wrong that has been done for more than fifty years to an essential part of the Palestinian people," she added. "It must come to an end, for the sake of unity and liberation."
Sawsan Khalife' is a political activist and journalist from Shefa Amr in the Galilee region of Palestine.