Opinion
Israel's Shining Stars of Conscience: Its Conscientious Objectors
Three young women prefer to be behind bars than be part of an occupation that embitters Palestinian lives.
By Odeh Bisharat HAARETZ Feb 06, 2017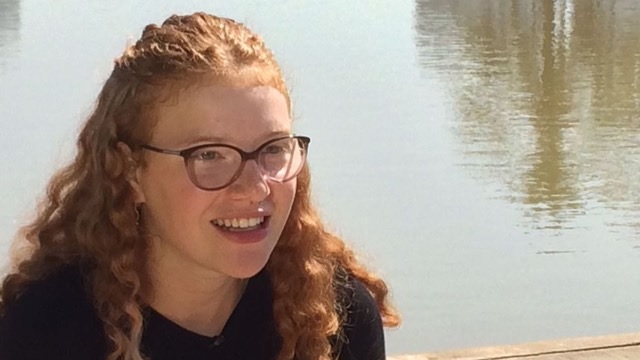 Conscientious objector Tamar Alon in 2016. Hila Aloni Ohayon
On Monday we'll see if the army extends the detention of conscientious objectors Tamar Ze'evi and Tamar Alon, who have spent 74 days in a military prison. Another conscientious objector, Atalia Ben Abba, will be joining them at the hearing for the first time.
It's important to note that these three young women weren't among those who threw bleach and stones at policemen in Amona. It's just that they have a conscience, and the hell with where it leads. These are girls who prefer to be behind bars than be part of an occupation that embitters Palestinian lives. The price they're paying is a denial of their freedom.
I've been trying to figure out the nature of conscience, that wondrous creature that's subject to repression in many places but still springs up again in all its power and glory. According to Wikipedia, conscience is "an aptitude, faculty, intuition or judgment that assists in distinguishing right from wrong."
I've never seen an independent conscience wandering the streets. Nor do I know in which part of the body the conscience resides – the head, the heart, or maybe the big toe. But every time the conscience rises up – whether through conduct or by taking a stand, I tremble with pride and my eyes tear up at the realization that I'm part of the human race and I can quickly forget Benjamin Netanyahu, Bashar Assad and Donald Trump.
Don't get me wrong; everyone has a conscience and a matching personal morality. Thus the conscience of Zionist Union's Tzipi Livni leads her to criticize the "regularization bill" aimed at legalizing illegal settlements. The truth is, I was a bit worried about her when I heard this but quickly calmed down when I realized she's fine.
Conscientious objectors Tamar Alon (left) and Tamar Ze'evi. Rami Ben Ari
It turns out she's against the bill because "if we make a fuss over every mobile home, we'll be overreaching and end up with nothing. The regularization bill does us more damage than Breaking the Silence, B'Tselem or any other organization. Passage of the bill will get Israeli soldiers taken to The Hague," she said, referring to the International Criminal Court.
We must therefore clarify that Livni's morals have no connection to morality, and if they met true morality, they might be called traitorous. Livni's morality is mortgaged to the land lust that prevails here; grab as much Arab land as you can. If the legalization lets you grab more, fine. If it doesn't embarrass Israel in front of the world, great. And if no Israeli soldiers are at risk of prosecution in The Hague, even better.
Livni's morality is immoral. It's like a mother telling her son, "Don't hit too many children because your hand will hurt."
And here we have conscientious objector Tamar Alon, whom I view as my daughter, saying clearly, "I'm not willing to accept the claim that oppressing another people, denying basic human rights, racism and hate are essential to Israel's existence." She refuses to serve in the occupation army not because of what the world will say, not because she fears the ICC in The Hague, but because the occupation is immoral.
But the system doesn't embrace her and take pride in her comments, which testify to her morality. It puts her in jail for weeks. Maybe her conscience will be repaired there.
Meanwhile, 245 students at Tel Aviv's Ironi Alef High School have signed a petition expressing their support for her. Big Brother, please note.
It's not easy for parents when their daughters pay a heavy price for adhering to their consciences. But their stance paves a different trail for two peoples yearning for a life of peace and tranquility. The Iraqi poet Muzaffar al-Nawab wrote, "I know you cry alone, but you've added another lamp to the path."
Your daughters are like shining stars in our long night.
HOME