Israeli soldier faces long jail term for passing secret papers to reporter


Leaked documents show officials authorised killing of Palestinian militants when they could have been arrested instead
Harriet Sherwood
6 February 2011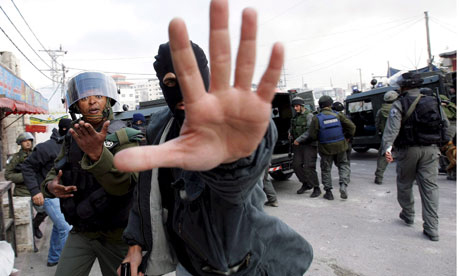 A policeman tries to prevent a photographer taking pictures of Palestinian youths being arrested in Jerusalem. Papers leaked by Anat Kam cast light on Israeli policies towards the arrest of militants. Photograph: Kobi Gideon/EPA
A former Israeli soldier is facing a long prison sentence after admitting that she passed thousands of classified military documents to a newspaper reporter.
Anat Kam, 24, has been under house arrest since she was charged in January 2010 with espionage and intent to harm state security with a maximum sentence of life imprisonment. In a plea bargain, that charge was dropped when she admitted to collecting and passing on secret information. She faces a maximum sentence of 15 years, but prosecutors are reportedly asking for about nine years.
Among the documents leaked by Kam to the Haaretz reporter Uri Blau were papers showing that Israeli military and security officials had authorised the killing of Palestinian militants in operations where they could have instead been arrested. Kam made copies of 2,000 documents, including 700 marked top secret, during her national service as a clerk in the office of a top Israeli general.
Blau published an investigation revealing the content of the documents in November 2008. The assassinations contravened an Israeli high court judgment which ruled that militants must be arrested where possible.
Blau's article was approved by the military censor, and Kam was not arrested for more than a year after publication. The Haaretz journalist remained in London, where he was at the time of Kam's arrest, for many months, fearing he would face prosecution if he returned to Israel. He flew back in October after his lawyers struck a deal with the Shin Bet security service under which he returned the documents.
After Kam's arrest, the Israeli authorities imposed a gagging order on the reporting of the case, which was lifted last April.
Kam admitted the lesser charge of possession and distribution of classified information at Tel Aviv district court. She declined to comment beyond issuing a brief statement.
"We agreed to a plea bargain today," she said. "Out of respect for the court, I don't intend on discussing the sentence. Today I admitted to committing the crimes attributed to me. I'm not thinking about the punishment. What's written in the law is out of my hands."
Eytan Lehman, Kam's lawyer, urged a "proportionate" punishment. "What we said from the beginning is true – there was no intention of harming Israeli security," he said. A harsh sentence would damage Israeli democracy, he added. "If people are afraid to speak out about things that happen that should not happen, this is very dangerous."
The next hearing in the case is scheduled for 11 April, but Lehman expected the sentencing to take place some weeks after that. Kam will remain under house arrest.
http://www.guardian.co.uk/world/2011/feb/06/israeli-soldier-anat-kam-faces-prison