Israeli ex-soldier faces prison over leaks
Anat Kamm sentenced to more than four years in jail for leaking documents linked to the killing of Palestinian fighters.

By aljazeera.net, 30 Oct, 2011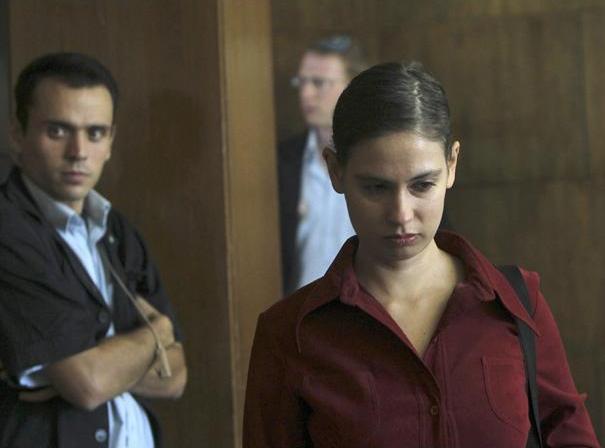 Kamm copied more than 2,000 military documents from army computers between 2005 and 2007 [Reuters]
An Israeli court has sentenced a former soldier to four and a half years in prison for leaking classified military documents to a newspaper, which later reported allegations of a policy to assassinate Palestinian fighters.
A three-judge panel handed Anat Kamm a 54-month sentence and an additional 18-month suspended term on Sunday, with judges writing in the court document that they had found "the motive behind taking the documents was mainly ideological".
Kamm, 24, copied more than 2,000 military documents from army computers between 2005 and 2007, when she served as a junior clerk in the office of the Israeli commander responsible for the illegally occupied West Bank. About 700 were classified.
Avigdor Feldman, one of Kamm's lawyers, said at the time she was convicted that she had "believed she stumbled onto [evidence of] war crimes."
She later passed some of the information, including operational plans, personnel lists and lists of targets to Uri Blau, a correspondent for Israel's Haaretz daily.
The newspaper subsequently reported in 2008 that senior army officers had authorised the assassination of Palestinian fighters, in a possible violation of Israeli law.
Press freedom questioned
All of Blau's stories were approved by Israel's military censor before they were published, but the information contained within them led to a search for his source.
Kamm was arrested in December 2009, though her detention was made public only four months later. She has remained under house arrest throughout the proceedings against her.
Kamm was convicted in February of possessing and distributing secret information, after striking a plea bargainwith Tel Aviv District Court, where judges agreed in exchange to drop more serious charges of harming state security.
Her case has sparked debate in Israel on the limits of press freedom in a nation where most men and women are subject to compulsory military conscription at 18, and go on to serve in the reserves, and many become privy to classified information.
Speaking to Al Jazeera, Dimi Reider, a +972mag.com contributing editor, said that the sentence is a blow to freedom of information and freedom of press.
"Sources will now think very carefully before approaching journalists; journalists will think very carefully before publishing documents; and soldiers stumbling onto what they suspect are war crimes will probably not approach anybody at all."
In summing up Kamm's sentence, the judges appeared to point at her case as a lesson to other soldiers.
"The military establishment is built on the service of young, motivated people who fill complicated and secret roles," they wrote.
"If the army cannot trust the soldiers serving in various units and exposed to sensitive issues, then it cannot function as a regular army."
Reider said: "The message that this sends to young soldiers is that if you see something illegal keep your mouth shut and do as you are told because if you talk about it your commanders will suffer no repercussions and you will go to jail."
Israel has justified its assassination practice as necessary to combat and deter potential attackers, while saying it has refined its methods to kill its targets more precisely.
http://english.aljazeera.net/news/middleeast/2011/10/20111030113048320412.html

HOME