Obama's drone war a 'recruitment tool' for Isis, say US air force whistleblowers
Ed Pilkington in New York and Ewen MacAskill in London· THE GUARDIAN Wednesday 18 November 2015
Four former service members – including three sensor operators – issue plea to rethink current airstrike strategy that has 'fueled feelings of hatred' toward US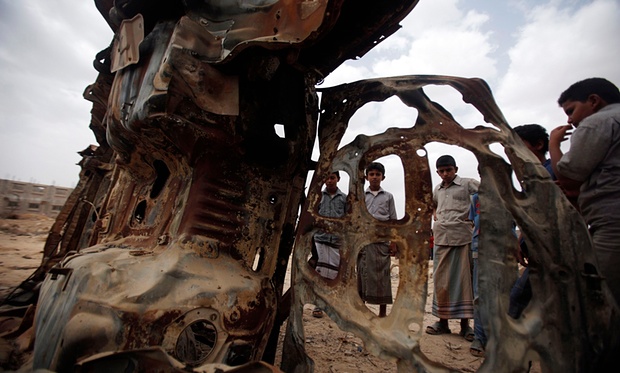 Boys gather near the wreckage of car destroyed by a US drone airstrike targeting
suspected al-Qaida militants in Azan, Yemen, in 2013. Photograph: Khaled Abdullah/Reuters
In particular, they argue, the killing of innocent civilians in drone airstrikes has acted as one of the most "devastating driving forces for terrorism and destabilization around the world".
VIDEO Extract from Drone: 'The first kill is horrible ... the third is numbing.'
The letter, addressed to Obama, defense secretary Ashton Carter and CIA chief John Brennan, links the signatories' anxieties directly to last Friday's terror attacks in Paris. They imply that the abuse of the drone program is causally connected to the outrages.
"We cannot sit silently by and witness tragedies like the attacks in Paris, knowing the devastating effects the drone program has overseas and at home," they wrote.
The joint statement – from the group who have experience of operating drones over Afghanistan, Iraq and other conflict zones – represents a public outcry from what is understood to be the largest collection of drone whistleblowers in the history of the program. Three of the letter writers were sensor operators who controlled the powerful visual equipment on US Predator drones that guide Hellfire missiles to their targets.
They are Brandon Bryant, 30, who served in the 15th Reconnaissance Squadron and 3rd Special Operations Squadron from 2005 to 2011; Michael Haas, 29, who served in the same squadrons during the same period; and Stephen Lewis, 29, who was with the 3rd Special Operations Squadron between 2005 and 2010.
The fourth whistleblower, Cian Westmoreland, 28, was a technician responsible for the communications infrastructure of the drone program. He served with the 606 Air Control Squadron in Germany and the 73rd Expeditionary Air Control Squadron in Kandahar, Afghanistan.
The four are represented legally by Jesselyn Radack, director of national security and human rights at the nonprofit ExposeFacts. "This is the first time we've had so many people speaking out together about the drone program," she said, pointing out that the men were fully aware that they faced possible prosecution for speaking out.
In the wake of the Paris attacks, Obama has stuck firm to his determination to avoid sending large numbers of US troops to Syria, beyond the limited engagement of special forces. The natural, though unspoken, consequence of such a strategy is a deepening reliance on aerial attacks in which unmanned drones increasingly play a leading part.
The number of lethal airstrikes has ballooned under Obama's watch. The Pentagon has plans further to increase the number of daily drone flights by 50% by 2019.
From its inception, the drone program has been troubled by reports of mistaken targeting. Classified government documents leaked to the Intercept revealed that up to 90% of the people killed in drone strikes may be unintended, with the disparity glossed over by the recording of unknown victims as "enemies killed in action".
In one of the most widely publicised errors, the US government was accused by one of its own officials of making an "outrageous mistake" in October 2011 when it killed the US citizen Abdulrahman al-Awlaki, the 16-year-old son of Anwar al-Awlaki, an al-Qaida leader who was also a US citizen and was killed by a CIA drone two weeks previously.
The letter signatories, from left: Cian Westmoreland, Michael Haas, Brandon Bryant
and Stephen Lewis. Photograph: Simon Leigh for the Guardian
One of the four drone operators who signed the letter to Obama, Brandon Bryant, was part of the team that tracked Anwar al-Awlaki by drone for 10 months shortly before he was killed. In an interview with the Guardian, Bryant said that he was not opposed to drone technology per se, which he saw as having beneficial uses.
"We just understand that in its current form the program is being abused, there's no transparency, and we need to be open to other solutions."
Bryant said that in his view he had been made to violate his military oath by being assigned to a mission that killed a fellow American. "We were told that al-Awlaki deserved to die, he deserved to be killed as a traitor, but article 3 of section 2 of the US constitution states that even a traitor deserves a fair trial in front of a jury of his peers."
Two of the four drone operators have also spoken out in a film about the US program, Drone, that premieres theatrically in New York on Friday. The other two are going public for the first time, having just come forward in the past few weeks.
Obama this week made clear that he would continue to resist putting more boots on the ground in Syria following the Paris attacks. Speaking at the G20 summit in Turkey, he said "part of the reason is that every few months I go to Walter Reed [military hospital] and I see a 25-year-old kid who is paralysed or has lost his limbs, and some of those are people who I have ordered into battle".
But the former drone operators argue that the strategy is self-defeating, as the high number of civilian casualties and the callousness of drone killings merely propagates anti-US hatred. "Right now it seems politically expedient," said Cian Westmoreland. "But in the long term the bad side of a Hellfire missile and drones buzzing overhead is the only thing that a lot of these people know of the United States or Britain."
Bryant accepted that there was no negotiating with extreme, violent terrorists of the type that carried out the Paris attacks. "But you have to prevent such people being created," he said. "We validate them, we keep this cycle going. Their children are afraid to play out in the sun because that's when the drones are coming."
http://www.theguardian.com/world/2015/nov/18/obama-drone-war-isis-recruitment-tool-air-force-whistleblowers
+++++++
Drone Pilots have Bank Accounts and Credit Cards Frozen by Feds for Exposing US Murder
For having the courage to come forward and expose the drone program for the indiscriminate murder that it is, 4 vets are under attack from the government they once served.
The U.S. Government failed to deter them through threats of criminal prosecution, and clumsy attempts to intimidate their families. Now four former Air Force drone operators-turned-whistleblowers have had their credit cards and bank accounts frozen, according to human rights attorney Jesselyn Radack.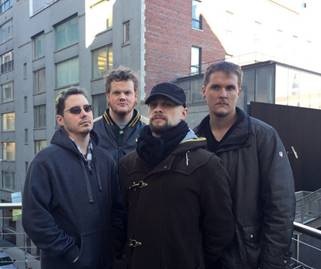 "My drone operators went public this week and now their credit cards and bank accounts are frozen," Radack lamented on her Twitter feed (the spelling of her post has been conventionalized). This was done despite the fact that none of them has been charged with a criminal offense – but this is a trivial formality in the increasingly Sovietesque American National Security State.
Michael Haas, Brandon Bryant, Cian Westmoreland and Stephen Lewis, who served as drone operators in the US Air Force, have gone public with detailed accounts of the widespread corruption and institutionalized indifference to civilian casualties that characterize the program. Some of those disclosures were made in the recent documentary Drone; additional details have been provided in an open letter from the whistleblowers to President Obama, Defense Secretary Ashton Carter, and CIA Director John Brennan.
"We are former Air Force service members," the letter begins. We joined the Air Force to protect American lives and to protect our Constitution. We came to the realization that the innocent civilians we were killing only fueled the feelings of hatred that ignited terrorism and groups like ISIS, while also serving as a fundamental recruiting tool similar to Guantanamo Bay. This administration and its predecessors have built a drone program that is one of the most devastating driving forces for terrorism and destabilization around the world."
Elsewhere the former drone operators have described how their colleagues dismissed children as "fun-sized terrorists" and compared killing them to "cutting the grass before it grows too long." Children who live in countries targeted by the drone program are in a state of constant terror, according to Westmoreland: "There are 15-year-olds growing up who have not lived a day without drones overhead, but you also have expats who are watching what's going on in their home countries and seeing regularly the violations that are happening there, and that is something that could radicalize them."
By reliable estimates, ninety percent of those killed in drone strikes are entirely harmless people, making the program a singularly effective method of producing anti-American terrorism. "We kill four and create ten," Bryant said during a November 19 press conference, referring to potential terrorists. "If you kill someone's father, uncle or brother who had nothing to do with anything, their families are going to want revenge."
Haas explained that the institutional culture of the drone program emphasized and encouraged the dehumanization of the targeted populations. "There was a much more detached outlook about who these people were we were monitoring," he recalled. "Shooting was something to be lauded and something we should strive for."
Unable to repress his conscience or choke down his moral disgust, Haas took refuge in alcohol and drug abuse, which he says is predictably commonplace among drone operators. At least a half-dozen members of his unit were using bath salts and could be found "impaired" while on duty, Haas testifies.
Among the burdens Bryant now bears is the knowledge that he participated in the mission that killed a fellow U.S. citizen, Anwar al-Awlaki. Identified as a radical cleric and accused of offering material support for al-Qaeda, al-Awlaki was executed by a drone strike in Yemen. His 16-year-old son, Abdulrahman, was killed in a separate drone strike a few weeks later while sitting down to dinner at the home of a family friend. Asked about the killing of a native-born U.S. citizen – who, at age 16, was legally still a child – former White House press secretary Robert Gibbs appeared to justify that act by blaming it on the irresponsibility of the innocent child's father.
As Bryant points out, as a matter of law the elder al-Awlaki was innocent, as well.
"We were told that al-Awlaki deserved to die, he deserved to be killed as a traitor, but article 3 of section 2 of the U.S. Constitution states that even a traitor deserves a fair trial in front of a jury of his peers," Bryant notes, lamenting that his role in the "targeted killing" of a U.S. citizen without a trial was a violation of his constitutional oath.
Investigative reporter Jeremy Scahill has produced evidence suggesting that the White House-approved killing of Anwar al-Awlaki's son may have been carried out as retaliation against the family for refusing to cooperate in the search for the cleric. There are indications that the government has tried to intimidate the whistleblowers by intimidating their families.
In October, while Brandon Bryant was preparing to testify about the drone program before a German parliamentary committee, his mother LanAnn received a visit in her Missoula, Montana home from two representatives of the Air Force's Office of Special Investigations. The men claimed that her personal information was in the hands of the Islamic State, which had placed her name on a "hit list." She was also told not to share that disclosure with anyone – a directive she promptly ignored by informing Ms. Radack, who represents Brandon and the other whistleblowers.
According to Radack, a very similar episode occurred last March in which the stepparent of another whistleblower received a nearly identical visit from agents of the Air Force OSI. "This is the US government wasting taxpayer dollars trying to silence, intimidate and shut up people. It's a very amateurish way to shut up a whistleblower … by intimidating and scaring their parents. This would be laughable if it weren't so frightening."
Given the role played by the U.S. government in fomenting, equipping, and abetting the growth of ISIS, such warnings have to be perceived as credible, albeit, indirect death threats.
http://thefreethoughtproject.com/drone-pilots-bank-accounts-credit-cards-frozen-feds-exposing-murder/
ALSO