International Actions for Bradley Manning on 1 June 2013
Tons of Media Coverage
The virtual media blackout of the prosecution of Bradley Manning has ended, with the beginning of his court martial. You can find tons of media coverage here and a very interesting article in New Yorker.
---
FORT MEADE (site of the court martial)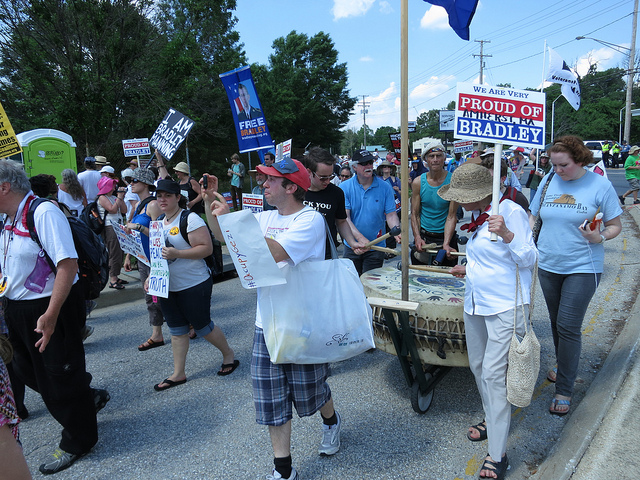 Photo credit: Owen Wiltshire, Bradley Manning Support Network

More photos here
Nearly two thousand supporters of US Army PFC Bradley Manning rallied and marched on Fort Meade, Maryland, this afternoon for the young whistle-blower.

Under a sweltering sun, Pentagon Papers whistle-blower Daniel Ellsberg, former political prisoner-turned-human rights advocate Sarah Shourd, LGBT activist and US Army LT Dan Choi, and retired US Army Col. Ann Wright addressed supporters at the Llewellyn Gate, nearest the military courtroom.

The demonstration, which lasted several hours, comes two days before Manning's trial is set to begin at Ft. Meade, on June 3, and three years after his arrest. The government is charging Manning with indirectly "aiding the enemy" for releasing hundreds of thousands of war logs, diplomatic cables, and military videos to the transparency website WikiLeaks.

PFC Manning has said that he hoped the releases would "spark a domestic debate on the role of the military and our foreign policy in general as well as it related to Iraq and Afghanistan."

A dozen chartered buses brought supporters from across the northeast, including three buses from New York City. Military veterans and activists traveled from around North America—some arriving from as far as Michigan, Montreal, and Mexico City.

"People came from great distances to stand with a true American hero," said Jeff Paterson, director of the Bradley Manning Support Network. "From Bradley's demeanor in court, it's clear he takes strength from the outpouring of support."

Today's rally was held with the assistance of many national organizations, including Veterans for Peace, Iraq Veterans Against the War, CODEPINK Women for Peace, World Can't Wait, and Courage to Resist. (Bradley Manning Support Network)

Videos: 1st June (protest) / 3rd June (start of the trial)
---
LONDON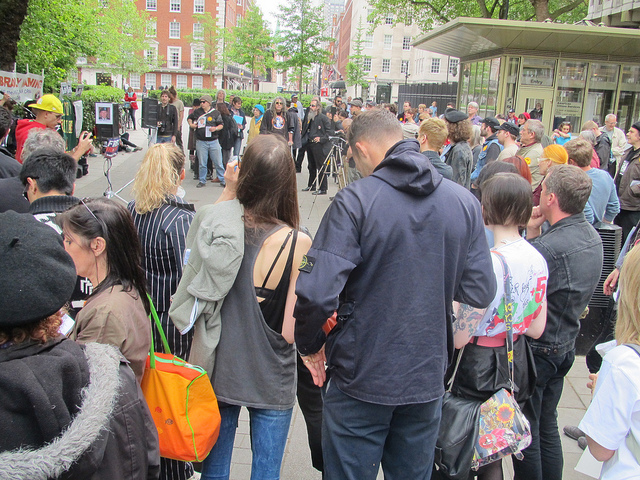 More photos here
In London, a crowd of around 200 people amassed at the gates of the U.S. Embassy in Grosvenor Square, protesting for Bradley's release. Speakers included ex-SAS officer Ben Grffin, former Royal Navy rating turned refusenik Michael Lyons, iconic fashion designer Vivienne Westwood, a spokeswoman from Women Against Rape and Craig Murray, former UK ambassor to Uzbekistan turned whistleblower.

Videos: Queer Strike / Payday / Women against Rape / Ben Griffin / Craig Murray / Vivienne Westwood / Campacc (Campaign Against Criminalising Communities)
More videos, photos / and reports at WiseUP Action and Veterans for Peace UK
---

More photos here
Videos here (list of clips)
---
ISTANBUL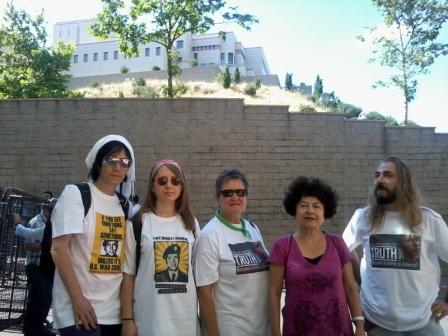 Protest at the US embassy

---
MELBOURNE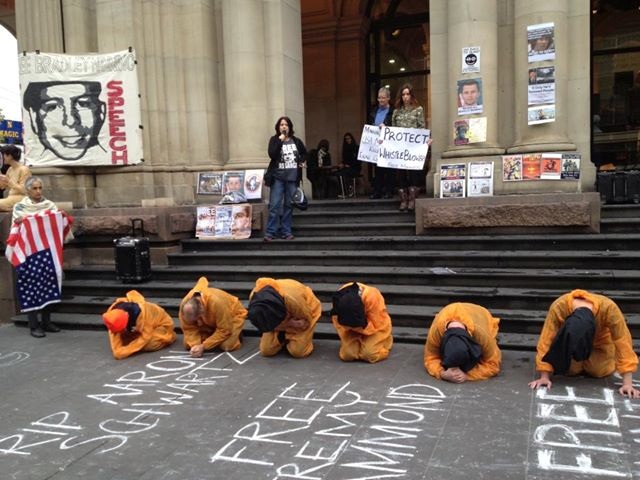 Video here