---
Rome
U.S. Citizens for Peace & Justice, Nov. 30 2012
U.S. Citizens for Peace & Justice – Rome held a flash-mob photo-op Friday (Nov. 30) outside the U.S. Embassy in Rome, Italy, to say: "We are Bradley Manning! Exposing war crimes is a duty, not a crime!" It was a work day so there were just a handful of us. But all our members have endorsed the action because all are convinced that Bradley is a hero, not a criminal.
Convicting Bradley would send the wrong signal to everyone working in places of power, i.e. "Close an eye to any wrongdoing you see."
Instead, freeing Bradley will send the signal: "We are all responsible for keeping our democracy free of corruption and wrongdoing, by denouncing any occurrences of these things — publicly if there are no official channels or if superiors refuse to listen (Bradley's case)."
And THAT is the signal this trial should be sending.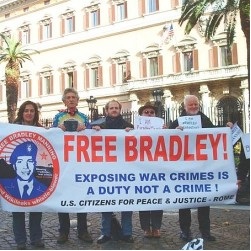 ---
Frankfurt
Connection e.V., 28 November 2012
Pictures of yesterdays vigil in Frankfurt/M., Germany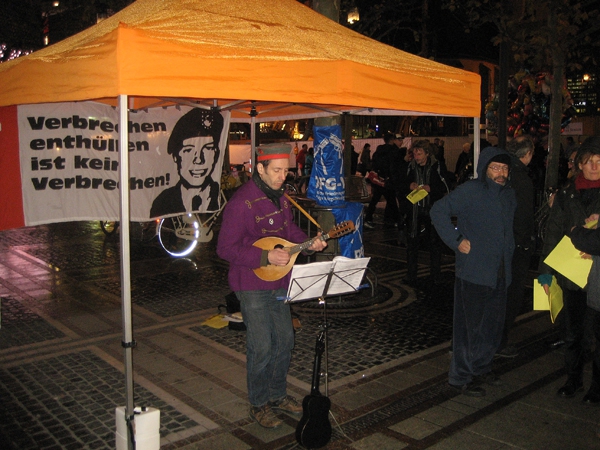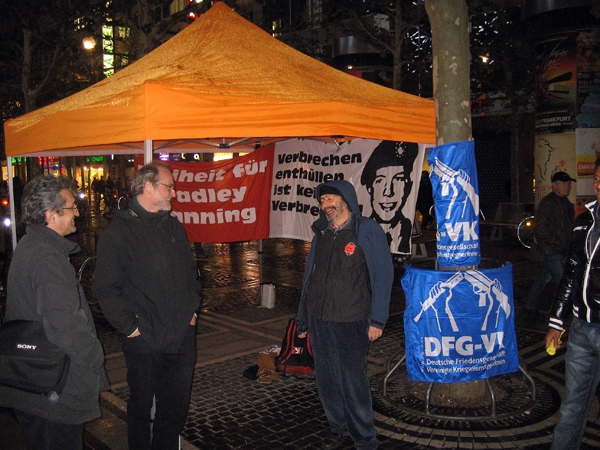 More photo's at http://www.connection-ev.org/bilder.php?ID=38&b=article-1738&t=Weitere%20Informationen%20zu%20Bradley%20Manning
---