Free Chelsea Manning!
Again - and again!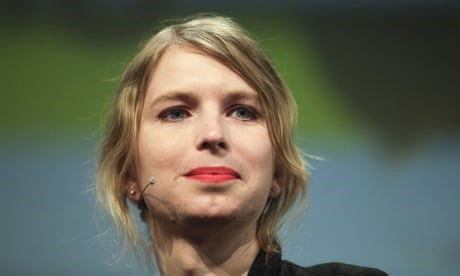 Chelsea Manning, the transgender whistleblower who exposed the war crimes of the US and other governments (among which the infamous Collateral Murder video) is back in jail.
She was originally sentenced to 35 years in 2013. Obama commuted her sentence to seven years after more than 100,000 people from around the world petitioned, and many took actions demanding her release. Chelsea was set free on 17 May 2017.
Now the US government wants revenge and to set an example – no whistleblower should think they can get away with it.
On 8 March 2019, Chelsea was jailed for 62 days (28 in solitary confinement) because she refused to testify against Wikileaks in front of a secret Grand Jury.
Wikileaks' founder, Julian Assange, is now in jail in London. Meanwhile the Grand Jury has issued 18 charges which if he is extradited to the US and found guilty could carry a sentence of up to 175 years.
After a week out of jail, Judge Anthony Trenga sent Chelsea back to jail on 16 May. This time he also sentenced her to pay $500 a day after 30 days and $1,000 after 60 days until she accepts to testify. She is challenging this.
Chelsea explained her refusal to testify:
"(…) nothing will convince me to testify before this or any other grand jury for that matter. This experience so far only proves my long held belief that grand juries are simply outdated tools used by the federal government to harass and disrupt political opponents and activists in fishing expeditions,"
See Chelsea's letter to the judge.
In addition to the injustice of being in jail, Chelsea still needs follow-up care following her gender confirmation surgery – which is not available in detention, putting her at risk of serious medical complications.
Chelsea has defended us – exposing the crimes done in our name by governments and military, speaking out against police killings of people of colour and in support of immigrant people, trans people and others in our communities – we must defend her!
WHAT YOU CAN DO
· We invite all anti-war, anti-Trump, LGBTQ, veterans' organisations and individuals to organise events and actions including as part of Pride. We'll publish your actions on our website.
· Write to the prosecutors
· Give to Chelsea's legal fund
· Write to Chelsea (details below)
· Circulate this message and this interview with Chelsea
· On 6 July, join us at the statue of Eros, in Piccadilly Circus, London where we will be calling on Pride to support Chelsea's release.and highlight Chelsea's resistance.
· There will also be a FREE CHELSEA contingent on Trans Pride on 20 July in Brighton.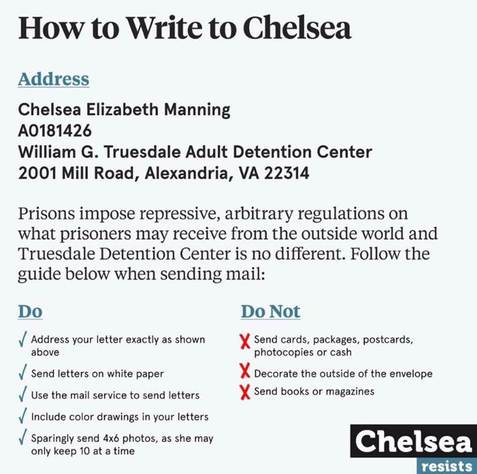 PERSECUTING WHISTLEBLOWERS… Chelsea is not alone. Daniel Hale, an anti-war Air Force veteran and former US intelligence analyst who has spoken out against drone killings was arrested on 9 May and faces up to 50 years in prison for whistleblowing. Reality Winner, an NSA whistleblower who leaked documents about possible election hacking, is 2 years into a 5 year sentence – the longest known prison term for such a media leak.
Circulated by Payday and Queer Strike
payday@paydaynet.org www.refusingtokill.net queerstrike@queerstrike.net Queer strike