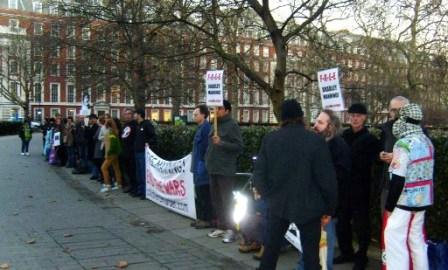 Ciaron O'Reilly reports:
25 folks gathered outside the U.S. embassy in London last evening (23 February) in solidarity with Bradley Manning.

Those assembled included folks from Anonymous, Catholic Worker, London Guantánamo Campaign, Payday men's network, Veterans for Peace, WikiLeaks, WISE Up for Bradley Manning, Queer Strike – Lesbian Bi Trans Queer in the Global Women's Strike – and a bunch of other backgrounds.

After a 40 minute vigil facing the embassy (the police request to move around the corner was politely refused) – we circled. Former U.S. political prisoner Ciaron O'Reilly and British veteran Ben Griffin addressed the assembled. John McLean led us in Dylan's "I Shall Be Released". Open forum included Giorgio Riva from Payday men's network, Anthony from U.S. of A, Didi Rossi from Queer Strike, a woman from a military family in Wales and Andrew Warren, a supporter of Payday men's network.

I was quite impressed with the turn out considering the minimalist organising and promotion.

The Guardian reports that Badley is no longer being held in Leavenworth but in proximity of Ft. Meade. Next court appearance March 15-16. Prosecution claims they won't be ready until August 3rd. Defense objecting to this. Brad is presently deferring a plea.
Press Release and some Reports from the Arraignment
Press Release from Veterans for Peace & WISE Up for Bradley Manning.
Report by Dave Eberhardt: "Judge, isn't a soldier required by law to report a war crime?"
Report by Missy Beattie: "I would be proud to say that you are my son".
Transcript from the arraignment by Alexa O'Brien of WikiLeaks.

Source: WiseUP for Bradley Manning