In 1983, 10 years after the deportations, the UK gave the Mauritian government £4m cash, and Mauritius "contributed" £1m as the value of the land to "compensate" the deported Chagossians. But only certain Chagossians got £1000 each as "final and full compensation" and were forced to abandon any claims. Many could not read what they signed, many signed with their thumb print. Those deported to the Seychelles got no compensation.
We have opposed these deportations for the last 30 years. In Mauritius, we held demonstrations, mass sit-ins in front of the UK Embassy, and hunger strikes by Chagossian women to demand the withdrawal of the US base and the right to return to Chagos, including Diego Garcia. Women have been at the forefront of our struggle, which won an important court decision.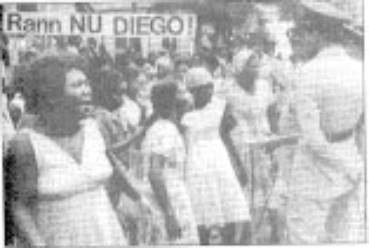 Protest in Mauritius (1980) – "Rann NU DIEGO" - Give us back Diego!
(Clemencia on the left)
On 3 November 2000, the High Court in London granted Chagossians the right to return to all the Chagos islands. The Court acknowledged that we had been unlawfully removed from the island. The UK government granted us full British citizenship. . . 30 years after the deportations!
However, on 9 October 2003, the High Court ruled the Chagossians had no right to compensation, and questioned the ruling which granted the right to return. This judgment violates many international conventions which recognise our right to enter our own country, the obligation on the UK to ensure the "well-being of the inhabitants" of the territories it administers, and other international legal rights.
Over the last year, a community of over 100 Chagossians has come to the UK to reclaim our rights. We have been faced with the same racism and discrimination we faced in Mauritius. Even though we are British citizens, we are denied proper accommodation and benefits. Many have be made homeless or will soon been made homeless.
The Chagossian Group UK has joined the peace camp at Parliament Square because we have no place to go and we want to make our struggle and demands public. Legal Action for Women and Payday (a men's network), both based at Crossroads Women's Centre, have been helping us with our demands for housing, welfare and other reparations
.