Defend the Rutgers 3!

Stay updated:
Http://www.rutgerswalkoutcoalition.blogspot.com
Http://www.facebook.com/group.php?gid=14201206009
Email RutgersThree@gmail.com for press information and solidarity statements

On March 27, hundreds of Rutgers students and supporters participated in the Rutgers Walkout against the U.S. occupation of Iraq. Students walked out of classes, rallied on campus, marched through downtown New Brunswick, and spontaneously walked on to Route 18, a state highway. During the action, the police did not complain to student organizers, issue warnings to the crowd, or attempt to stop any of the actions. The non-violent protest, organized by 12 student organizations, ended without incident.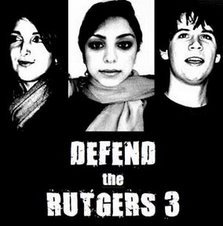 On April 10th of 2008, Suzan Sanal (Rutgers Against the War/Campus Antiwar Network), Erik Straub (Tent State/SDS), and Arwa Ibrahim received a summons from the state of New Jersey for activities during the Walk Out. These three were the only ones to receive a summons for the protest despite the fact that the Walk Out was organized by a coalition of multiple student groups and gathered several hundred participants. Arwa was not even a member of the Walk Out coalition and never attended an organizers' meeting.

Walk Out coalition members met and communicated with police, before and during the event, in an effort to be cooperative with police to ensure participants' safety.

According to the Targum, "(Sgt Richard) Rowe said members of the group advised them of their proposed route shortly before they began, so he said if the protesters went on Route 18 they would accommodate them."

Police Pleased By Rally's Nature: http://media.www.dailytargum.com/media/storage/paper168/news/2008/03/28/PageOne/Police.Pleased.By.Rallys.Nature-3289175.shtml

All three are being charged with Disorderly Conduct, a "violation" according to New Jersey state law (equivalent to a "misdemeanor"). If convicted, they could face up to 30 days in jail, a $500 fine, and a record of an "offense" that would take several years to expunge. The complaint states, "Did engage in conduct which caused a physically dangerous or hazardous condition, specifically by organizing and participating in a protest march onto Route 18 disrupting traffic in violation of N.J.S. 2c: 33-2A(2)"

These selective charges are designed to intimidate students and student organizations from organizing such antiwar protests.

We, the undersigned, call for Rutgers University administration to defend and support the three students faced with these unjust charges. We also call for all charges against the Rutgers 3 to be immediately dropped.

Signed by:
Rutgers Walkout Coalition

[For full list of signers and to sign on: http://www.petitiononline.com/DefRU3/petition.html]