Agustín Aguayo's Story in Brief


Aguayo realized after about one year of service in the military that his beliefs had changed to the point that he could no longer in good conscience be a part of the armed forces. He first applied for discharge as a conscientious objector in February of 2004. While his application was being processed, he was sent to Iraq as a medic, where he refused to load his weapon even when put on guard duty. His application was denied by the Army while he was still in Iraq, but because it had been seriously mishandled, he had a chance to challenge the ruling by filing a habeas corpus in federal court.

The habeas corpus was denied on August 24, 2006, and exactly one week later, Aguayo's unit in the 1st Infantry Division was to deploy once again to Iraq. He made it clear to his chain of command that as a conscientious objector, it was against his beliefs to participate in war in any form and he would not deploy.

So after nearly three years of struggling with the US Army to be recognized as a conscientious objector, Agustin Aguayo went AWOL (absent without leave) on Sept. 1, 2006 and missed his unit's deployment to Iraq. The following day, September 2, 2006, he turned himself in to the MP station where his wife filmed his statement before turning himself in.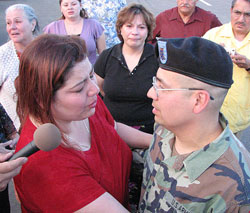 Agustin Aguayo with his wife Helga
However, instead of facing a court-martial, he was told by Army personnel that he would be going to Iraq, even if they had to forcefully put him on the plane i.e. shackle, handcuff, confine him until the deployment, and/or carry him on the plane. Knowing of no other option, Aguayo fled the military base in Germany and remained in hiding until September 26, 2006. On September 26, 2006 he held a press conference in "La Placita Olivera" Los Angeles, California. There he expressed his beliefs against killing and war. In a bold move, he and a caravan of supporters drove up to Fort Irwin, Barstow, California where he, again, turned himself in. Read details and see pictures of that day.

On October 3, 2006 personnel from the 1st Infantry Division came to get Aguayo in California and took him back to Germany. He currently sits in pretrial confinement in Mannheim Prison, Coleman Barracks, Germany.
---
AGUSTIN AGUAYO vs. THE SECRETARY OF THE ARMY
Why This Case Is Important
by attorneys Peter Goldberger, James Klimaski, and J.E. McNeil

Army Specialist Agustin Aguayo -- a Mexican-born, naturalized U.S. citizen from Los Angeles and a veteran of the Iraq War -- is in a U.S. military prison in Germany awaiting court martial and a possible jail sentence of up to seven years for refusing a second deployment to Iraq. Meanwhile, the United States Court of Appeals for the District of Columbia Circuit is considering Aguayo.s appeal of the Army.s refusal to release him from the military on the grounds that he is a conscientious objector; the Court will hear oral argument about his case on November 21. If Aguayo prevails in his appeal, the Army will be required to recognize his sincere conscientious objection and discharge him.

A medic in the U.S. Army, Aguayo was decorated for his service under combat conditions during his first tour in Iraq. In February 2004 he applied for an honorable discharge as a conscientious objector. In early 2006, despite favorable recommendations by the officer who investigated his case and other officers who know him best, Aguayo.s conscientious objector application was turned down by the Secretary of the Army. The U.S. District Court for the District of Columbia (which has jurisdiction over court cases concerning U.S. military personnel stationed abroad) upheld the Pentagon.s decision for reasons Aguayo.s attorneys say are contrary to legal rules and precedents.

Aguayo's appeal is the first military conscientious objector case to come before the powerful and influential D.C. Circuit Court -- the court from which Justices Roberts, Thomas, Scalia and Ginsburg all advanced to the Supreme Court -- in the 35 years since the Vietnam War. His appeal is one of only a handful of Iraq War conscientious objector cases to reach the appellate level and is apparently the only one pending.

The government seeks in this case to sharply cut back on the existing legal precedent, set during the Vietnam War, according to which the civilian courts have authority, under the Writ of Habeas Corpus, to exercise oversight over the military.s decisions regarding conscientious objector applications. This precedent serves to protect a key aspect of American religious liberty: the right of conscientious objection, which dates back to the Revolutionary War.

Yet, in the Aguayo case, the Army argues that the federal court should defer to military expertise. without requiring any verifiable factual or logical basis for the Army.s denial of his conscientious objector application -- an argument consistent with a variety of recent attacks on the authority of independent courts to use the historic Writ of Habeas Corpus to challenge unfettered Executive power. The decision of the United States Court of Appeals in the case of Aguayo vs. the Secretary of the Army will likely profoundly influence the willingness of the civilian courts to question the Executive.s refusal to honor the right of U.S. military personnel to exercise their freedom of religion, including the right -- in accordance with conscience -- not to participate in war.

Agustín Aguayo is still imprisoned and Germany for following his conscience and refusing a second deployment to Iraq. Please send letters of support to him today!
Send letters of support to:
SPC Agustín Aguayo
Unit 29723 Box LL
APO, AE 09028-3810
source: http://www.aguayodefense.org/
More on Agustin Aguayo